ACAP's Executive Secretary, Warren Papworth, recently represented the Agreement at the 11th Regular Session of the Scientific Committee of the Western and Central Pacific Fisheries Commission (WCPFC) in Pohnpei, Federated States of Micronesia (click here). A number of important issues relevant to seabird conservation in the Western and Central Pacific Ocean (WCPO) was discussed, including from the following two papers.
Working Paper WCPFC-SC11-2015/EB-WP-09 senior-authored and presented by Karen Baird of BirdLife International provided information on the distribution of five species of threatened albatrosses (Antipodean Diomedea antipodensis, Northern Royal D. sanfordi, Wandering D. exulans, Black-browed Thalassarche melanophris and White-capped T. steadi) and two species of threatened petrels (Black Procellaria parkinsoni and White-chinned P. aequinoctialis) in the WCPO. The data provided indicate that these seven ACAP-listed species are at risk of being caught as bycatch between 25°S and 30°S, an area for which seabird bycatch mitigation measures are not currently mandatory under the WCPFC's seabird conservation measure (CMM 2012-07).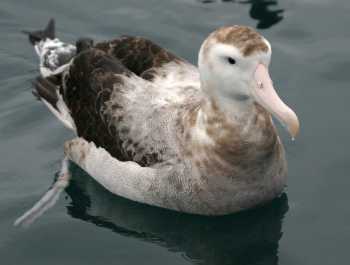 Antipodean Albatross at sea, photograph courtesy of Albatross Encounter
Although many delegations spoke in favour of the Scientific Committee making a recommendation to the WCPFC Commission that the seabird conservation measure be amended to require the use of bycatch mitigation in this area, it was not possible to achieve a consensus view on the proposal. Japan expressed a minority view that the information presented did not conclusively show there was a need for CMM 2012-07 to be amended to include this area. A majority view provided by FFA (Pacific Islands Forum Fisheries Agency) Members noted that the data provided did show there was potential for interactions of threatened seabird species with longline fisheries to occur and recommended to the Commission that it consider amending CMM 2012-07. It is likely that the BirdLife paper will be referred to the Commission for its consideration.
Working Paper WCPFC-SC11-2015/EB-WP-10, presented by Nobuhiro Katsumata and colleagues from Japan's National Research Institute on Far Seas Fisheries, concerns the development of seabird bycatch mitigation measures for small longline vessels in the Western North Pacific. Currently, small longline vessels less than 24 m in length are exempt from the mandatory requirement that applies to larger vessels under CMM 2012-07 to use seabird bycatch mitigation measures in the WCPO area north of 23°N. The exemption for small longline vessels was allowed due to concern that bycatch mitigation measures used on larger vessels may be impractical on smaller vessels.
The study examined the effectiveness of two different designs of bird-scaring lines, as well as the use of no line on seabird bycatch rates, on a small commercial longline vessel. The results of the study indicated that all of the bird-scaring lines deployed in the experiment substantially reduced bait attack and the actual bycatch of seabirds. A trial use of a light bird-scaring line with submerged elements resulted in the entanglement of the underwater segment with fishing gear.
ACAP's representative noted that there has only been limited research on the effectiveness of bycatch mitigation measures on small vessels and welcomed this research. He noted ACAP's concern at the exemption of small vessels from the mandatory requirements of CMM 2012-07 and noted also that this research highlights that significant levels of seabird bycatch may be occurring in the area north of 23°N. He encouraged Japan to present the results of this research to the next meeting of ACAP's Seabird Bycatch Working Group.
Access the session's Executive Summary report here.
References:
Baird K., Small, C., Bell, E., Walker, K., Elliot, G., Nicholls, D., Alderman, R., Scofield, P., Depp, L., Thomas, B. & Dias, M.P. 2015. The overlap of threatened seabirds with reported bycatch areas between 25° and 30° South in the Western Central Pacific Fisheries Commission Area. WCPFC-SC11-2015/ EB-WP-09. 18 pp.
Katsumata, N., Ochi, D., Matsunaga, H., Inoue, Y. & Minami, H. 2015. At-sea experiment to develop the mitigation measures of seabirds for small longline vessels in the western North Pacific. WCPFC-SC11-2015/ EB-WP-10. Rev. 1. 10 pp
Warren Papworth, ACAP Executive Secretary, 29 August 2015