The following text is précised and adapted from a report by BirdLife International.
About 20 participants from Cape Verde, Senegal, South Africa, Spain and Portugal participated in a workshop in Mindelo, Cape Verde from 1st to 4th December 2014, aiming to develop the Cape Verde Shearwater Species Action Plan.
The Cape Verde Shearwater Calonectris edwardsii is a breeding endemic to the Cape Verde Islands, recently recognised as a full species after being split from Scopoli's Shearwater C. diomedea.  The species is classified as Near Threatened and is protected by law in Cape Verde.  Unauthorised entrance to the islets of Raso and Branco, where the largest known breeding colonies are situated, is officially illegal, but there are limited means of enforcement or control of the law.  Uncontrolled high levels of hunting, poaching at main nesting sites, light pollution, invasive species and accidental mortality due to fisheries are the main threats that continue to threaten the species.
The Ministry of Environment of Cape Verde, in collaboration with a local NGO, Associaçao para Defesa do Meio Ambiente (Biosfera I) and with the support of BirdLife International and International Foundation of Banc d'Arguin (FIBA), organised a four-day workshop to identify conservation priorities.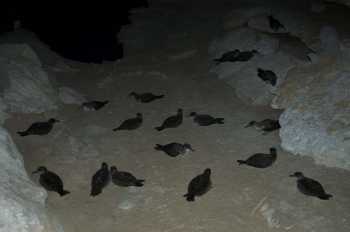 Cape Verde Shearwaters, photograph by Jacob González-Solís
The goal of the Cape Verde Shearwater Species Action Plan is to improve the Cape Verde Shearwater's conservation status, by raising it from the Near Threatened to the Least Concern category. The following objectives were agreed upon at the workshop:
to reduce chick mortality due to hunting;

to improve knowledge of distribution, population size and demographic trends;

to restore and protect breeding sites from invasive species;

to reduce mortality linked to light pollution;

to improve knowledge on mortality in different fisheries; and

to reduce mortality of birds in Cape Verde fisheries.
Workshop participants visited the Sinagoga fishing community on Santo Antao Island.  This gave everyone a chance to meet the former poachers of Cagarra (the local name for Cape Verde Shearwater) and to get an understanding of the socio-economics of fishing and poaching.  The fishing group is now working with Biosfera by taking the lead in conservation of the species and participating in its monitoring.
The institutions and organisations participating in the workshop committed themselves to implementing some of the activities identified in the plan and also accepted responsibility for communicating it widely to other stakeholders.
Click here for an earlier account on the action plan for the Cape Verde Shearwater
John Cooper, ACAP Information Officer, 30 January 2015