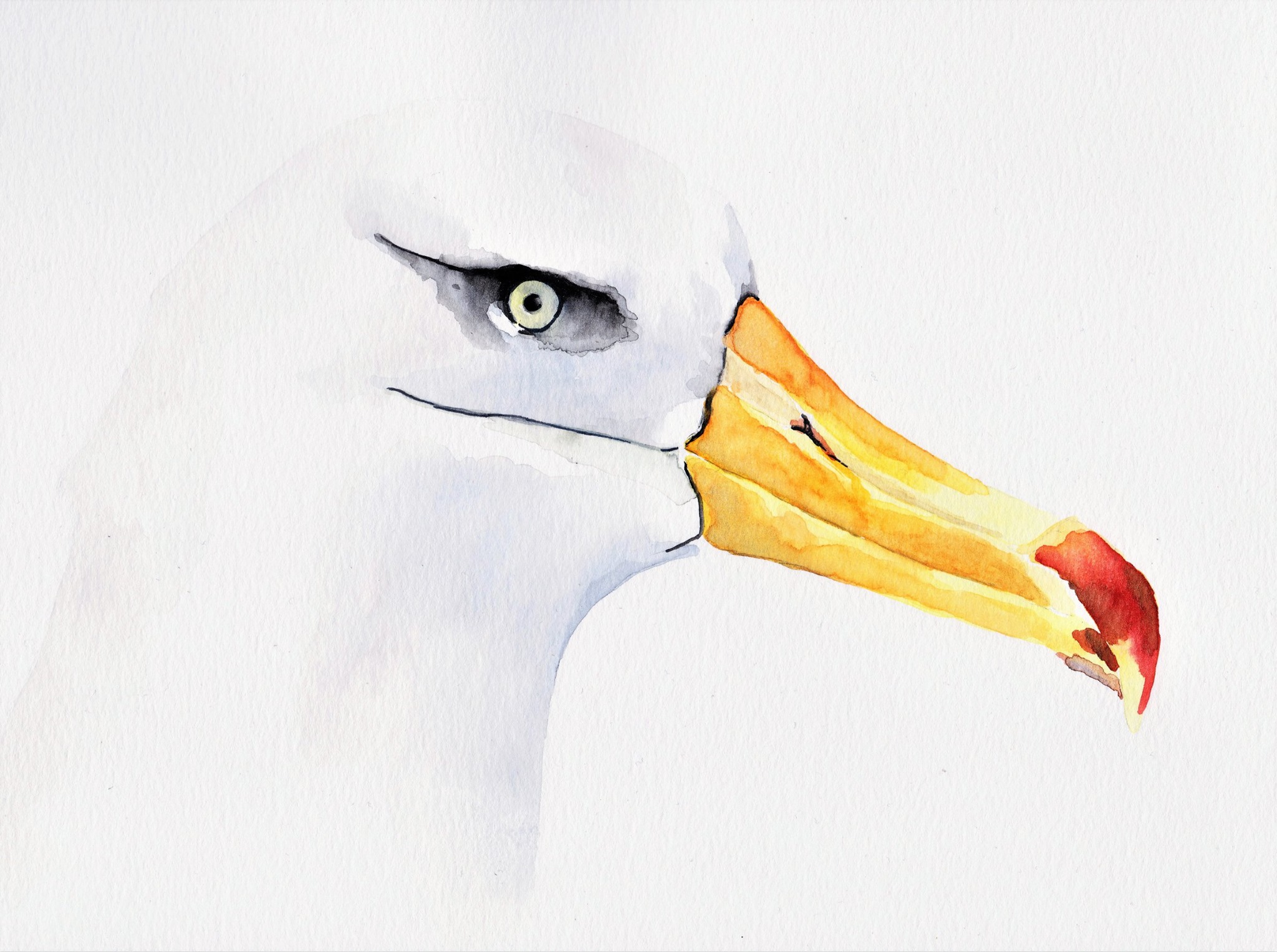 Campbell Albatross Thalassarche impavida (Vulnerable) by Lea Finke, from a photograph by Kirk Zufelt
ACAP has been collaborating with Artists and Biologists Unite for Nature (ABUN) , a group of wildlife artists around the world, both amateurs and professionals, who give of their time and creative talents in the service of conservation (click here). ABUN's latest project, due to finish at month end, has set the challenge to paint the world's 22 albatross species to aid in increasing awareness of the first World Albatross Day on 19 June. Artists are using photographs supplied by ACAP supporters for inspiration. The outcome has been far greater than expected with over 150 paintings submitted so far. High-resolution images are placed at the disposal of ACAP to further its work by illustrating website posts and booklets, creating posters and banners, and for uses not yet come to mind. To introduce the artists to a wider world, and to pay homage to their often phenomenal talents, ACAP Latest News will over the course of the year feature individual artists with their artwork, giving an insight as to why they have been drawn to paint wildlife in the service of conservation.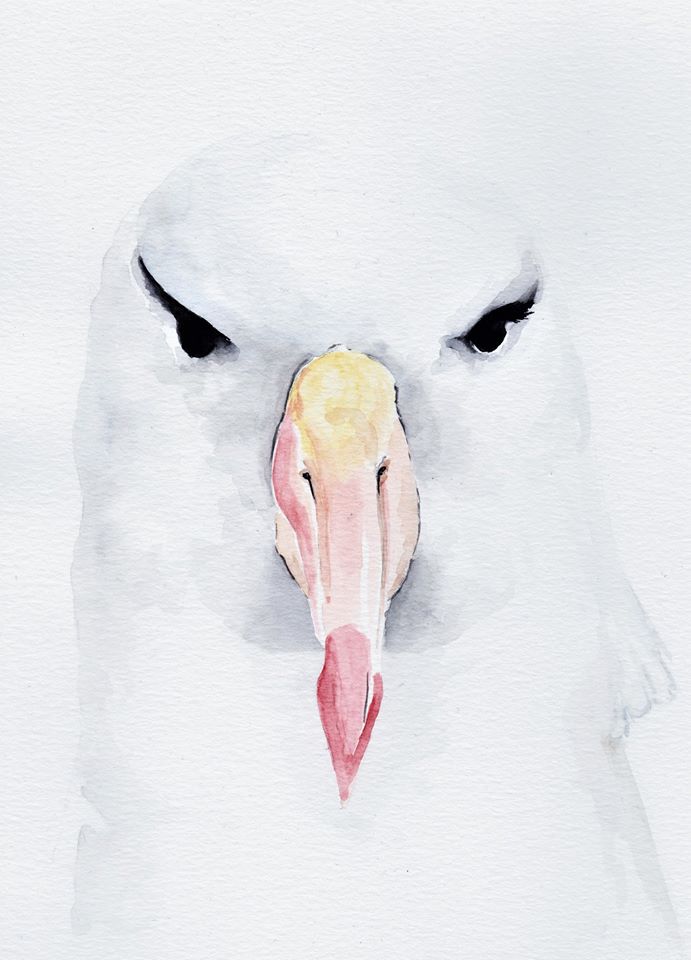 Black-browed Albatross Thalassarche melanophris (Least Concern) by Lea Finke, from a photograph by Cristian Suazo
To start this occasional series we feature some of the evocative albatross portraits being produced by Lea Finke from Germany, who is well on her way to painting all 22 species. Her birds look straight at the observer in a seemingly trusting mnner, and for anyone who has ever viewed albatrosses on their breeding islands at close quarters, they capture their very essence. To accompany her work Lea writes of herself below.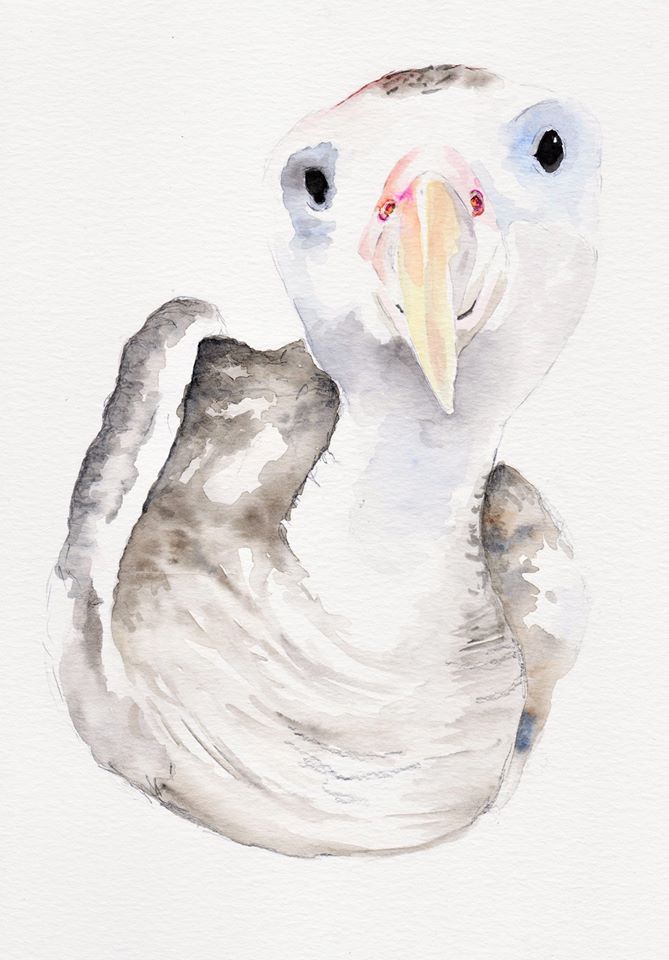 Tristan Albatross Diomedea dabbenena (Critically Endangered) by Lea Finke, from a photograph by Michelle Risi
"I am Lea Finke, 48 years old, and I live in Germany. To be more precise in the Ruhr area in western Germany. An industrial and former mining landscape, characterized by crises, transformation, and permanent need for redefinition in the last four decades. The place where I was born was not designed to awaken a deep connection with nature. And yet it was so. Nature always seemed to me to be something vulnerable - and injured, something exposed, something in need of protection. When Kitty Harvill of ABUN introduced us to the new World Albatross Day project, I was immediately thrilled. These beautiful birds, which seem so majestic in the air, but so awkward and endangered during take offs and landings, appeal to me deeply.
I discovered my love for art very early on. But my path initially led me in a completely different direction. And yet, art was my salvation. Being able to express myself through my art, not by depicting the upheavals and threats to my immediate present - but by reacting to their oscillations - has led me into a new life. Art gave me back my voice. Now it belongs to the albatrosses.
I chose the medium of watercolour for their portraits. The light and flowing nature of this medium correspond to the air and the sea - the habitat of the albatross. In addition to watercolour, I also like to work with charcoal, graphite and acrylic - experimenting with new media from time to time makes me happy."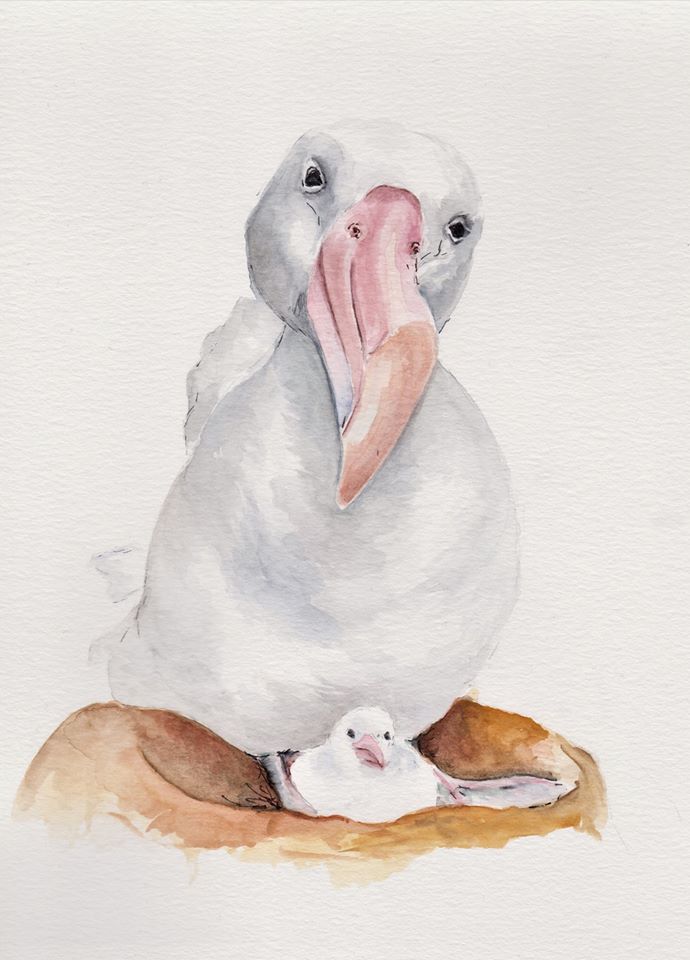 Wandering Albatross Diomedea exulans (Vulnerable) by Lea Finke, from a photograph by Michelle Risi
All artworks are watercolours, 20 x 30 cm
With thanks to Lea Finke, wildlife artist.
John Cooper, ACAP Information Officer, 20 February 2020