Japan's 99-ha Okinoshima Island along with three nearby reefs was given World Heritage status as a cultural site by the Convention Concerning the Protection of the World Cultural and Natural Heritage (WHC) at its 41st Session of the Committee held in Krakow, Poland this and last week (click here). The island, although heavily infested with rats (thought to be both Black Rattus rattus and Norwegian R. norvegicus), supports a large population of globally Near Threatened Streaked Shearwaters Calonectris leucomelas, reported by BirdLife International as of c.150 000 individuals.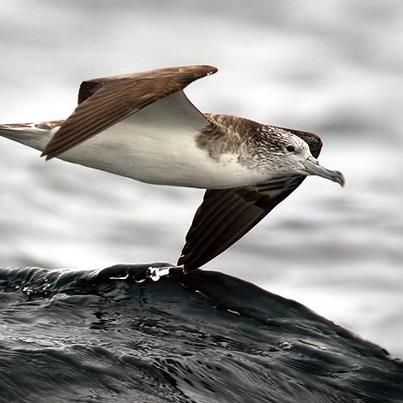 Streaked Shearwater
"The Sacred Island of Okinoshima and Associated Sites in the Munakata are located 60 km off the western coast of Kyushu island, the island of Okinoshima is an exceptional example of the tradition of worship of a sacred island. The archaeological sites that have been preserved on the Island are virtually intact, and provide a chronological record of how the rituals performed there changed from the 4th to the 9th centuries CE. In these rituals, votive objects were deposited as offerings at different sites on the Island. Many of them are of exquisite workmanship and had been brought from overseas, providing evidence of intense exchanges between the Japanese archipelago, the Korean Peninsula and the Asian continent. Integrated within the Grand Shrine of Munakata, the island of Okinoshima is considered sacred to this day."
Read of an expedition to the island to gather information on its invasive rats here. The visit also recorded rodent depredation on the shearwaters. The island was designated a National Wildlife Protection Area by Japan's Ministry of the Environment in 1984 (click here).
Women are banned from entry to Okinoshima in terms of Shinto religious belief. During an annual festival in May about 200 men are given permission to land, otherwise the island is only visited by (male) priests.
John Cooper, ACAP Information Officer, 13 July 2017