BirdLife International's Seabird Tracking Data Base "Tracking Ocean Wanderers" has since initiation in 2003 following a workshop in South Africa reached 10 million records from over 120 research bodies covering 131 species of which 66 are procellariiforms (tubenoses) including many (if not all) of the 31 ACAP-listed albatrosses, petrels and shearwaters.
"A symbol of the collaborative nature of the database, the ten millionth data point comes from a dataset owned by two contributors: Jacob González-Solís (Universitat de Barcelona) and Peter Ryan (Percy FitzPatrick Institute of African Ornithology, University of Cape Town). Number 10 million was a data point of the Southern Giant Petrel Macronectes giganteus, a bird with an impressively ample distribution that ranges from Argentina to Australia." The giant petrel was tracked from South Africa's Marion Island, in the southern Indian Ocean (click here).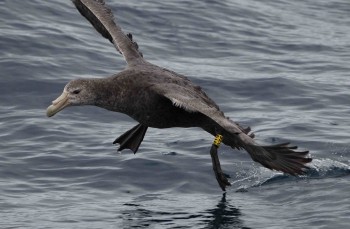 Colour-banded Southern Giant Petrel from Gough Island at sea, photograph by Peter Ryan
View at-sea data points for two other ACAP-listed species, the Northern Giant Petrel M. halli from Marion Island here and of Black-browed Albatrosses Thalassarche melanophris from Kerguelen here.
The bird tracked for the longest so far is a juvenile Tristan Albatross Diomedea dabbenena from the UK's Gough Island in the South Atlantic, another South African research endeavour, which travelled to the southern Indian Ocean.
Read more here.
John Cooper, ACAP Information Officer, 19 June 2017