Graham Parker of Parker Conservation has reported to ACAP Latest News on field work conducted this austral summer on five species of ACAP-listed species on the Auckland Islands south of New Zealand.
Graham, along with fellow researcher and spouse, Kalinka Rexer-Huber, spent the period from 18 December to 18 February in the island group, working primarily on Adams Island with a few days on Disappointment Island at the end of their trip.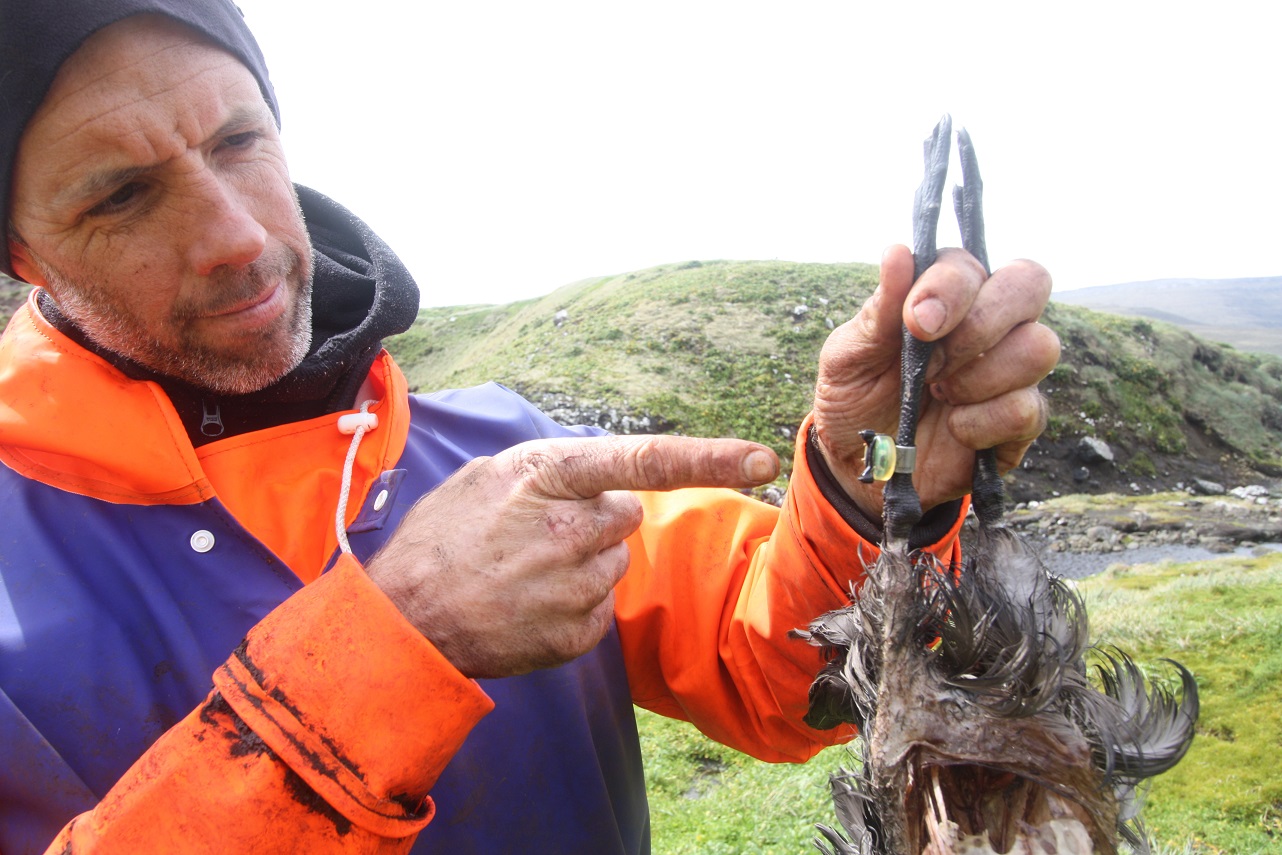 Graham points to a GLS mounted on the leg of a White-chinned Petrel killed by a Subantarctic Skua Catharacta antarctica on Adams Island
Brief descriptions of work conducted on each species follow:
Gibson's Antipodean Albatross Diomedea antipodensis gibsoni
Demographic work (capture-mark-recapture study to estimate survival and measure recruitment) and GLS (global location sensor) retrieval, working for veteran albatross researchers Graeme Elliot and Kath Walker on Adams Island.
White-capped Albatross Thalassarche steadi
Third season of work partly to establish a marked population to estimate demographic parameters on Disappointment Island. Recapture rates of previously banded birds were encouraging. This research is partnered with David Thompson of New Zealand's National Institute of Water and Atmospheric Research (NIWA).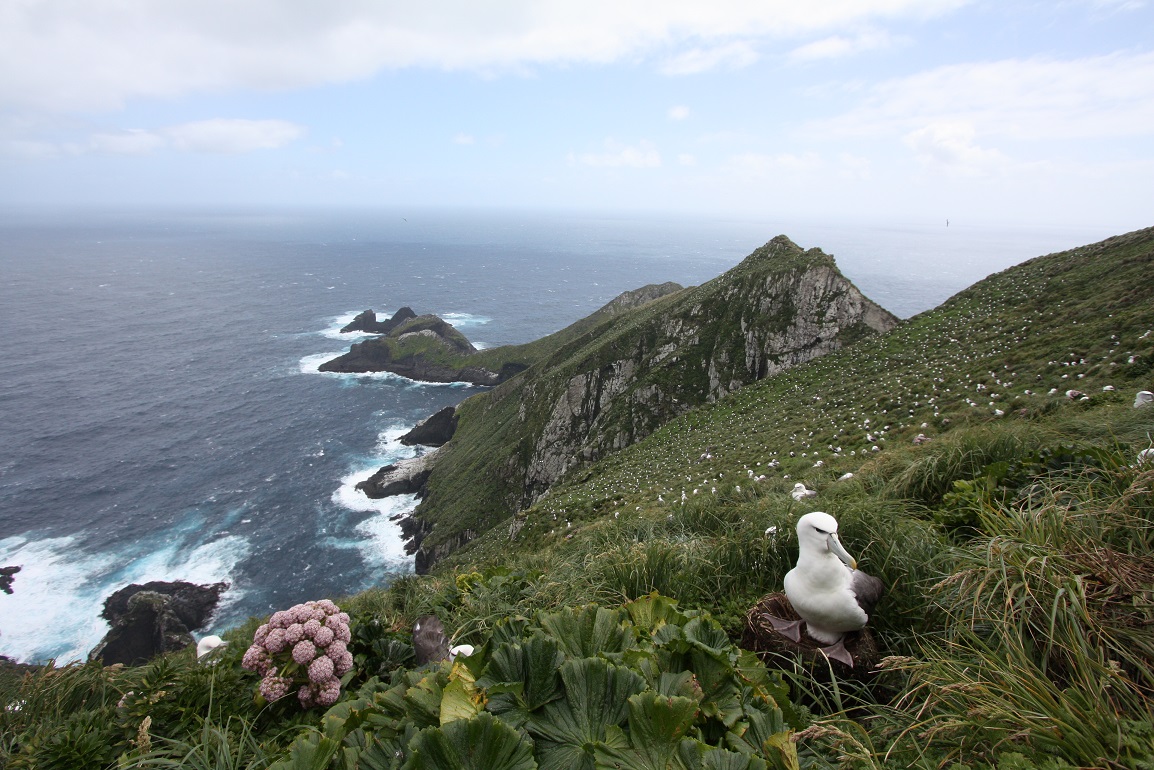 A White-capped Albatross colony on Disappointment Island, photograph by Graham Parker
Light-mantled Albatross Phoebetria palpebrata
Ground counts were made in a dense nesting area on Adams Island as part of a Parker Conservation project. These counts will be compared with counts made by Barry Baker of Latitude 42 Environmental Management Consultants utilizing helicopter-borne aerial photography.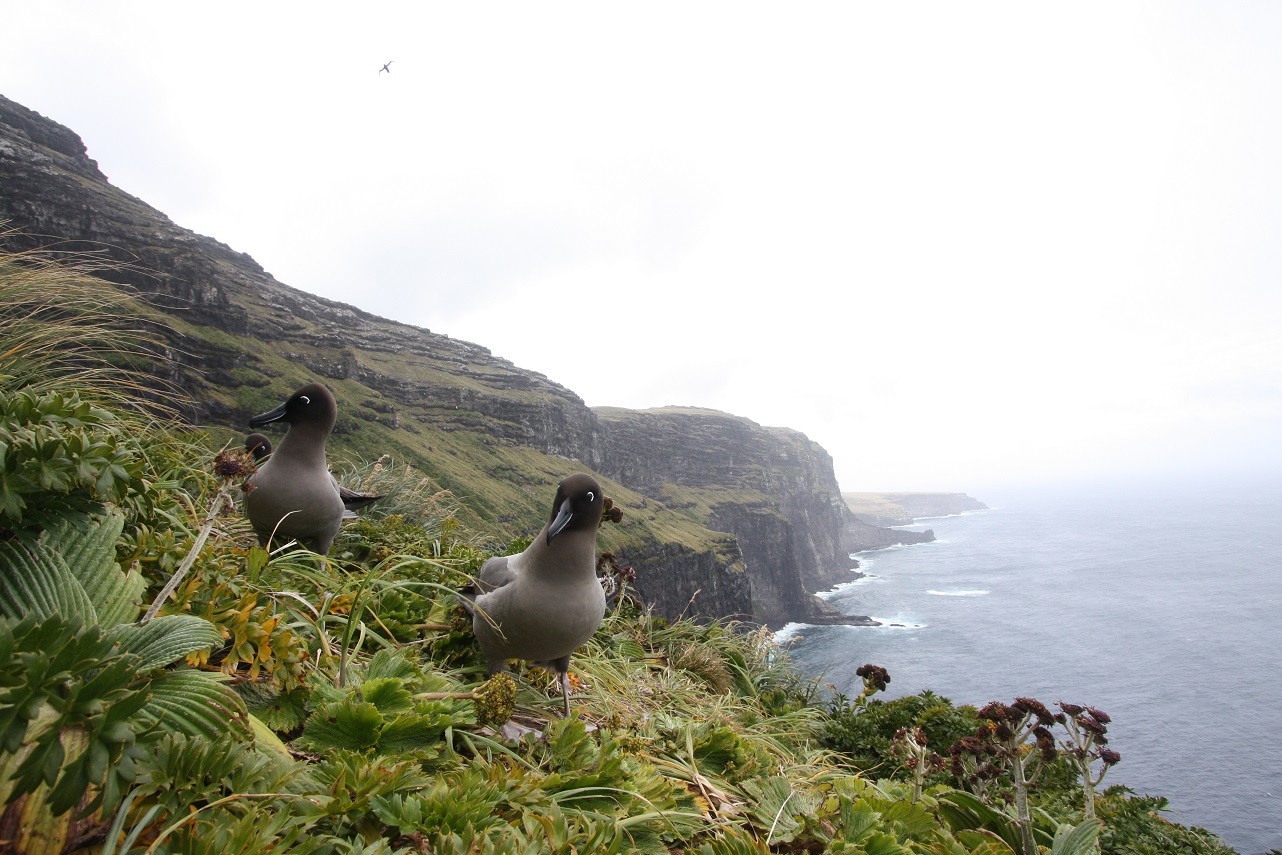 Light-mantled Albatrosses on Adams Island, photograph by Graham Parker
Northern Giant Petrel Macronectes halli
The entire Auckland Islands breeding population was counted during the 2015/16 summer. This season the three larger sub-populations on Adams, Enderby and Dundas Islands were counted in order to understand annual changes in the breeding population. This is a Parker Conservation project.
White-chinned Petrel Procellaria aequinoctialis
Demographic work and GLS retrieval on Adams Island was undertaken as part of Kalinka's ongoing PhD research being undertaken in the Department of Zoology, University of Otago in Dunedin.
Read more here.
With thanks to Graham Parker.
John Cooper, ACAP Information Officer, 03 March 2017