Anton Wolfaardt, Convenor of ACAP's Seabird Bycatch Working Group will be attending the 11th Annual Scientific Committee Meeting of the South East Atlantic Fishery Organization (SEAFO) from 30 September to 9 October in Windhoek, Namibia. This will be the first time that ACAP has attended a meeting of SEAFO, which came into force in 2003.
SEAFO is an intergovernmental fisheries science and management body whose primary purpose is to ensure the long-term conservation and sustainable use of all living marine resources in the South East Atlantic Ocean, and to safeguard the environment and marine ecosystems in which the resources occur. The Convention Area excludes the Exclusive Economic Zones of the coastal states in the region (Angola, Namibia, South Africa and South Atlantic islands which are Overseas Territories of the United Kingdom). Currently SEAFO has seven Contracting Parties (click here).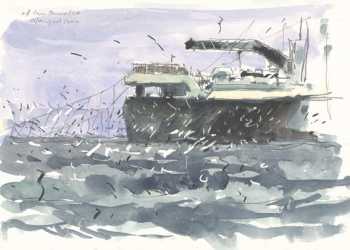 Paired bird-scaring lines deployed behind a southern African trawler, painting by Bruce Pearson
In 2012 SEAFO adopted Conservation Measure 25/12: On Reducing Incidental By-catch of Seabirds in the SEAFO Convention Area which replaced a similar CM 15/09, which itself replaced a 2006 measure (click here).
CM 25/12 requires all longline vessels fishing south of 30°S to carry and use bird-scaring lines to an agreed design and to set longlines only at night under minimum deck lighting. In addition offal is not to be discarded during line setting and hooks are to be retained on board. However, if adequate line-sinking rates are achieved by line weighting then day setting is allowed providing not more than three seabirds are killed on hooks per fishing trip.
For trawling operations bird-scaring lines are to be deployed and offal is not to be dumped during setting and avoided during hauling.
Under Agenda Item 19 for this year's meeting it is noted that the Commission requested the Scientific Committee "to follow up on the by-catch of seabirds by longline fisheries. The SC should establish whether other birds were caught, the status of the birds and if more could be done to protect seabirds during fishing operations."
ACAP Latest News will report on outcomes from the meeting relevant to the conservation of ACAP-listed albatrosses and petrels once information becomes available.
John Cooper, ACAP Information Officer, 23 September 2015