The Western and Central Pacific Fisheries Commission (WCPFC) has been holding the 11th Regular Session of its Scientific Committee in Pohnpei, Federated States of Micronesia over 5-13 August last and this week.
Working and Information Papers being tabled at the meeting on the issue of seabird mortality and mitigation measures are listed here by authors and title.
Baird K., Small, C., Bell, E., Walker, K., Elliot, G., Nicholls, D., Alderman, R., Scofield, P., Depp, L., Thomas, B. & Dias, M.P. 2015. The overlap of threatened seabirds with reported bycatch areas between 25° and 30° South in the Western Central Pacific Fisheries Commission Area. WCPFC-SC11-2015/ EB-WP-09. 18 pp.
Katsumata, N., Ochi, D., Matsunaga, H., Inoue, Y. & Minami, H. 2015. At-sea experiment to develop the mitigation measures of seabirds for small longline vessels in the western North Pacific. WCPFC-SC11-2015/ EB-WP-10. Rev. 1. 10 pp
Inoue, Y., Alderman, R., Taguchi, M., Sakuma, K., Kitamura, T., Phillips, R.A., Burg, T.M., Small, C., Sato, M., Papworth, W. & Minami, H. 2015. Progress of the development of the DNA identification for the southern albatross bycatch in longline fishery. WCPFC-SC11-2015/ EB- IP-09 Rev. 1. 22 pp.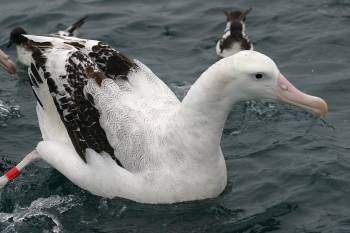 Antipodean Albatross: at risk from longliners in the Pacific, photograph by Albatross Encounter
The Albatross and Petrel Agreement is being represented at the meeting by its Executive Secretary, Warren Papworth.
John Cooper, ACAP Information Officer, 12 August 2015