Laysan Albatrosses Phoebastria immutabilis have been doing well this breeding season with record numbers reported for the atolls in the North-western Hawaiian Islands (click here).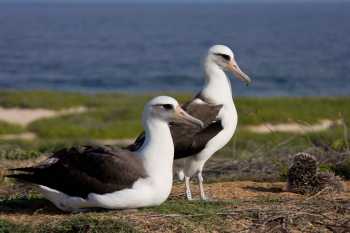 A Laysan Albatross family at Kaena Point, photograph by Lindsay Young
Relatively few Laysans breed on the inhabited main islands in the Hawaiian chain but those that do are of conservation significance because their breeding sites are less at risk to sea-level rise caused by climate change.  Good news then that at least one of these colonies, at Oahu's Kaena Point where the birds are protected by a predator-proof fence, is also having a record year, as reported last month by Hawaiian journalist Susan Scott in her regular blog, Ocean Watch:
"Lindsay Young and Eric Vanderwerf report this is a record year for Laysan albatrosses inside the fence: 94 couples are nesting, accompanied by uncounted adolescents there to sing, dance and find a mate.  The birds that come to Kaena are not just offspring of the local population.  Many are explorers displaced from other islands and searching for a new place to breed.  Because albatross pioneers are mostly females, Kaena Point hosts more females than males.  Young and Vanderwerf determined that about one-third of the nesters there are female-female pairs successfully raising chicks."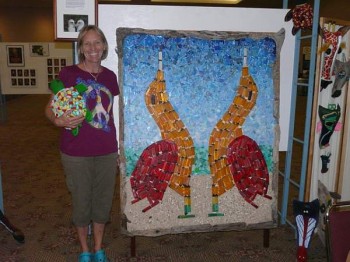 Sue Scott poses with her artwork made out of cigarette lighters ingested by Laysan Albatrosses
With thanks to Lindsay Young, Pacific Rim Conservation, for information.
John Cooper, ACAP Information Officer, 01 February 2015