The following press release from United States Congressman Alan Lowenthal was received by ACAP from Hannah Nevins of the American Bird Conservancy yesterday.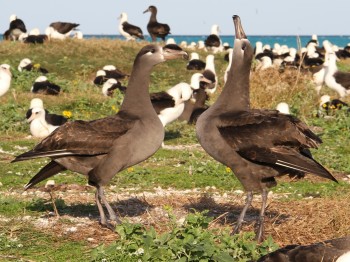 Dancing Black-footed Albatrosses on Midway Atoll. Laysans behind. Photograph by Pete Leary
WASHINGTON, D.C. (February 4, 2016) – Congressman Alan Lowenthal (CA-47) today introduced new legislation that will protect imperiled seabirds from international fishing threats and increase ongoing conservation efforts in the United States and abroad.
The Albatross and Petrel Conservation Act would implement the international Agreement on the Conservation of Albatrosses and Petrels (ACAP), a conservation agreement that has been signed by thirteen member countries since 2001. President George W. Bush first asked the U.S. Senate to ratify the agreement in 2008, and while President Barack Obama has listed it as a priority, the Senate has yet to take action.
"By signing and implementing the ACAP agreement, the U.S. can urge other nations to adopt strong conservation standards and can take steps to ensure that foreign fishing vessels follow international conservation measures that protect endangered seabirds," Congressman Lowenthal said. "I hope that my legislation will get the ball rolling because this is a golden opportunity for the United States to improve wildlife conservation not just here at home, but around the world."
Many albatross and petrel species are among the most threatened seabirds in the world because of habitat loss and fisheries bycatch (unwanted fish and other marine creatures caught during commercial fishing for a different species), but the U.S. has been a leader in reducing fisheries bycatch.
Congressman Lowenthal's bill ties together existing U.S. laws and statutes without substantially changing current laws in order to implement the international agreement.
"This legislation will give the U.S. more international influence to protect these endangered sea birds around the world by authorizing the U.S. Fish and Wildlife Service and the National Marine Fisheries Service to implement fisheries conservation measures, increase international fisheries enforcement, restore habitat, reduce non-native species, develop educational programs, and cooperate internationally," Congressman Lowenthal said.
This legislation is cosponsored by Reps. Mark DeSaulnier (CA-11), Bill Keating (MA-09), Eleanor Holmes Norton (DC), and Pedro Pierluisi (PR).
"Hook, line and sinker is literally how hundreds of thousands of seabirds die every year," National Audubon Society president and CEO David Yarnold said. "With more than half of the world's albatross and petrel species facing extinction, it's time to protect these incredible birds from such needless deaths. This legislation makes sense for birds and makes sense for people, and we call on members of Congress to get it across the finish line."
American Bird Conservancy Vice President Darin Schroeder added, "ACAP is the foremost international agreement bringing countries together to reduce threats and ensure the future existence of highly imperiled albatrosses and petrels, and so we wish to thank Congressman Lowenthal for his leadership in introducing this important legislation. The U.S. is a global leader in seabird conservation and our membership in this international agreement will help encourage best practices to reduce accidental take of albatrosses and petrels by other nations - often ones supplying fish to U.S. consumers. This will help ensure a level playing field in environmental compliance for all fisheries, as well as reassurance for American consumers who are concerned about the sustainability of the fish they are purchasing."
With thanks to Hannah Nevins.
John Cooper, ACAP Information Officer, 05 January 2016