With 80 or so individually colour-banded Northern Royal Albatrosses Diomedea sanfordi recorded back in their mainland breeding colony at New Zealand's Taiaroa Head, the first five eggs of the season had been laid up to yesterday (and eight by today). One of the returned adults is Toroa, the 500th chick to hatch on Taiaroa Head, in 2007.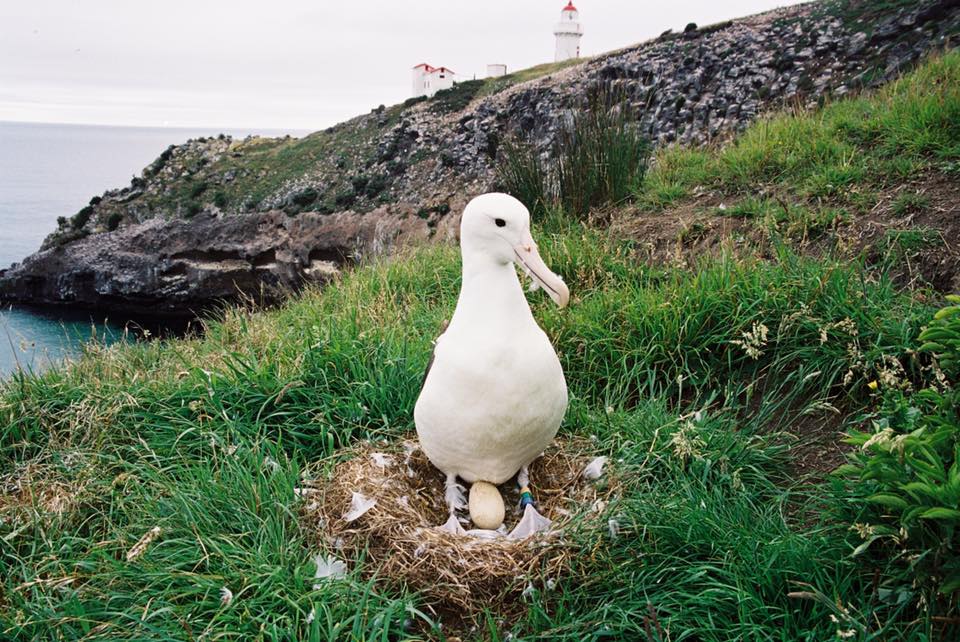 Proud parent? One of the first Northern Royal Albatross eggs laid in 2016 at Taiaroa Head
Photograph from the New Zealand Department of Conservation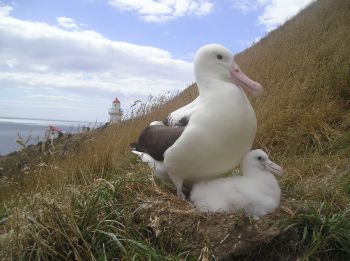 Toroa, the 500th chick to hatch on Taiaroa Head, photograph by Lyndon Perriman
The webcam that followed the fortunes to fledging of chick Moana (Maori for sea) last season has now been set up to overlook a new younger pair (colour bands Blue Black (BK) for the 12-year old fostered male and Red Blue Black (RBK) for the 14-year old female) for the current breeding season. Both birds nested for their first time together during the 2011/12 season, when they fledged their first chick. "The 2012/13 season was their 'year off' and they spent that time apart and at sea before coming back to attempt to breed in the 2013/14 season. They were not successful that season as their egg was infertile, so they left and later returned to breed in the 2014/15 season. They were successful this time round, fledging their second chick. After another year off at sea during the 2015/16 season, they are now back to attempt to breed again for this 2016/17 season" (click here).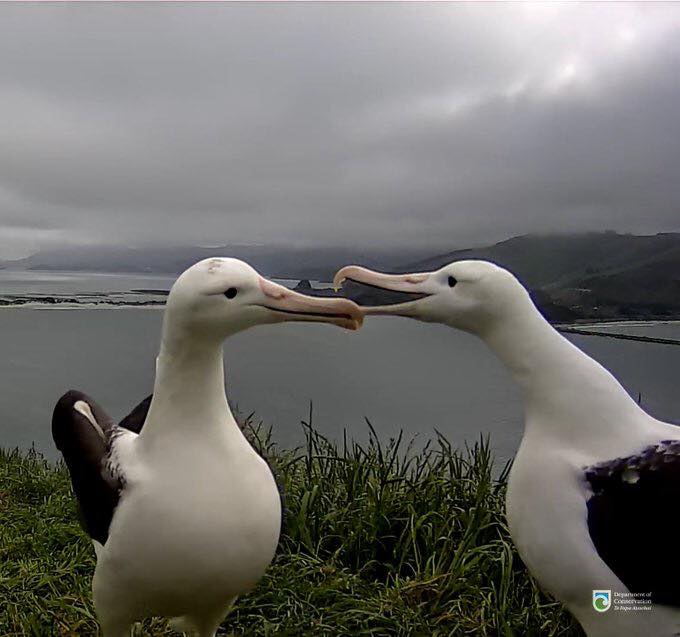 RK and RBK, the 2016 webcam pair, photograph from the New Zealand Department of Conservation
Live streaming from the "royalcam" can now be watched here.
The Royal Albatross Centre at Taiaroa Head reported recently via Facebook:
"No egg at our webcam nest yet, but viewers got to witness mating yesterday [4 November], so if this was the mating that leads to a fertile egg, then it won't be laid for about another two weeks (but note that they do mate often over this period and last night's mating may not have been the first for this pair this season. Either way it will be at least six days after the egg is laid before we can confirm if the egg is actually fertile - done by candling, that is shining a torch through it to look for blood vessels of a developing embryo)."
Around 26 chicks from the previous breeding season have now fledged.
John Cooper, ACAP Information Officer, 07 November 2016