UPDATE
Submission deadline extended to 16 December 2019
"Due to overwhelming community requests, WSC3 is extending the abstract submissions deadline until Monday December 16. Submissions are being accepted for symposia, certain workshops, contributed oral presentations and posters. More information can be found on the website regarding submissions guidelines, process and accepted symposia and workshops. Please note the deadline for submissions is 23:59 Central Standard Time December 16, 2019 and no further extensions will be granted."
*****************************************************
The Third World Seabird Conference (WSC3) will be held over 19-23 October 2020 in Hobart, Tasmania, Australia. Information is now available on confirmed conference symposia.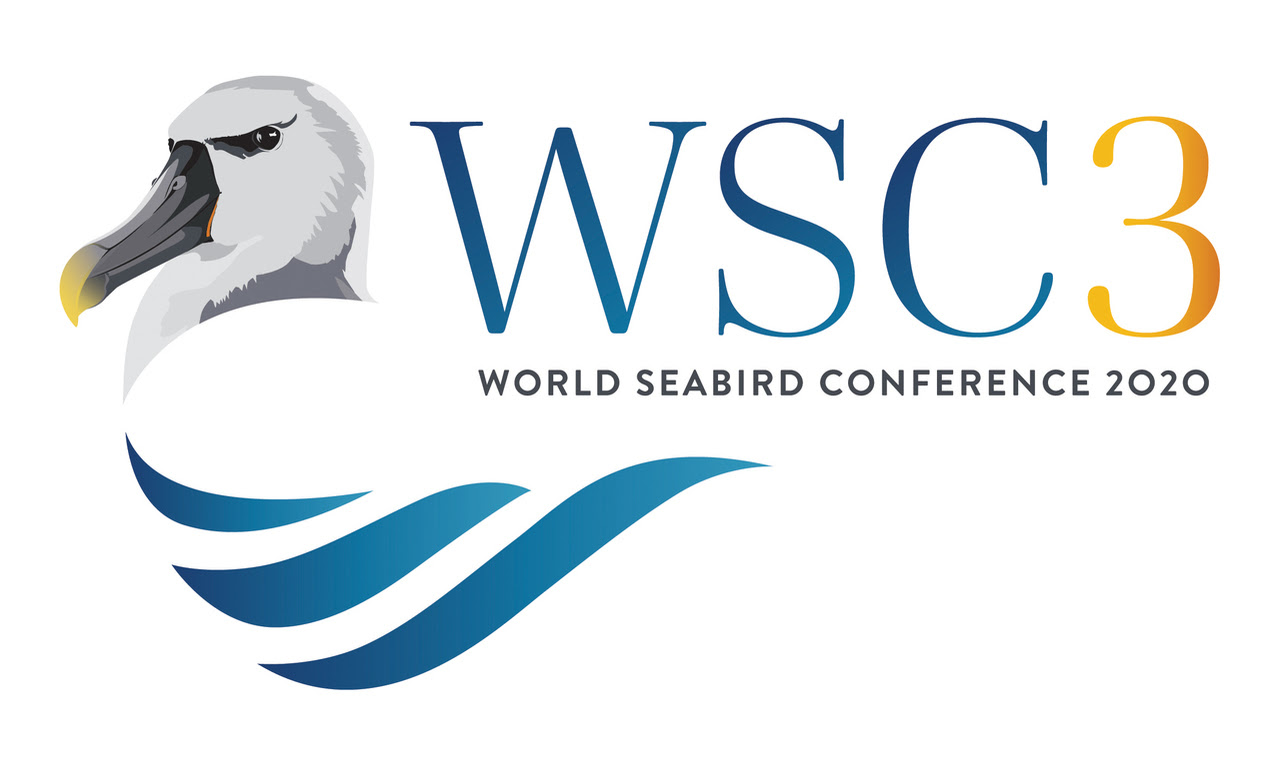 Detailed information as given on the WCS3 website for two symposia and their convenors that consider seabird- fisheries interactions follows.
Fine scale seabird foraging behavior in relation to fisheries: Henri Weimerskirch & Scott Shaffer
Fisheries are operating worldwide and are attracting many seabird species that feed on offal and baits. But fisheries can induce high mortality rates to attending seabirds because of by-catch, collision or entanglement with gears. For these reasons there is an increasing interest in the study of seabird-fisheries interactions. However there is still much to understand about the factors affecting the fine scale foraging behavior in relation to the presence of boats, especially fishing vessels, and this becomes possible with the miniaturization and development of new loggers. Through a series of empirical studies we will examine the fine scale foraging behavior of seabirds in relation to the presence of vessels obtained by conventional positioning systems such as AIS, VMS and with new bio-logging systems allowing the detection of vessels. The critical questions addressed concern the detection distances, distinction between co occurrence and attendance, the differences between seabird families in the attraction and attendance patterns, the influence of local oceanic conditions on attendance patterns and how attraction to fishing vessels build up over the lifespan of seabirds.
Seabird bycatch in commercial fisheries: Progress and challenges: Rory Crawford, Stephanie Prince, Pamela Michael, Amanda Gladics & Tom Good
Seabird bycatch in fisheries remains the greatest threat to seabirds alongside Invasive Non-Native Species. Solutions are now well-established for trawl and longline fisheries and have been adopted in a number of fisheries to great effect, but broadscale implementation remains a barrier to improving the conservation status of threatened seabirds, perhaps most notably albatrosses. Given the vast at-sea ranges of many seabirds affected by fisheries, these implementation gaps – both in national waters and on the High Seas – need to be addressed as a matter of urgency. As well as shining a light on the success stories (and what has made them successful), this symposium will focus on the outstanding challenges that need to be addressed: from the fundamental basics (how to estimate bycatch levels from often low sampling effort and zero-inflated data) to the balance of 'carrots' and 'sticks' in achieving broader uptake, to tackling bycatch in other gear types, particularly gillnets and purse seines.
Two other symposia should be of special interest to the conservation of ACAP-listed species. These are "Outcomes and progress of active seabird restoration projects" and "The threat of marine debris to seabirds: Detangling the demonstrated from the perceived."
See details for all the confirmed WCS3 symposia here.
Abstract submissions close on 30 November; anticipated decision date is 16 March 2020.
John Cooper, ACAP Information Officer, 23 October 2019, updated 22 November 2019