Last month ACAP Latest News reported on a new colony of Laysan Albatrosses Phoebastria immutabilis (Near Threatened) being established at Kahuku Point on the northern shore of the Hawaiian island of Oahu with six eggs being laid in the current season, following various activities to increase their protection (click here).
Following five years of unsuccessful breeding attempts at the locality, for the first time, two of these nests have downy chicks, hatched on 4 February (click here).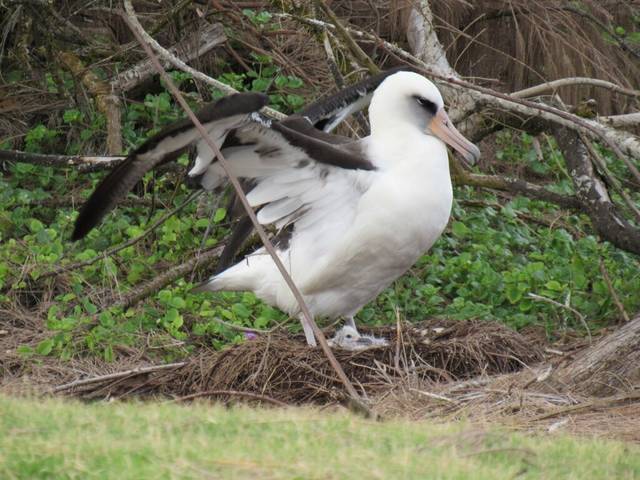 A Kahuku Point Laysan Albatross stands to reveal its downy chick, photograph from Hawaii Marine Animal Reponse
"The coastline at Kahuku Point where the chicks hatched has been under restoration since February 2015, according to the North Shore Community Land Trust, which in 2015 played an instrumental role in helping to preserve 630 acres [255 ha] of open space along five miles [8 km] of coastline between Kahuku Point and Kawela Bay. Volunteers have worked for year [sic] to stabilize the dunes and remove invasive species at Kahuku Point, one of the few remaining places on Oahu with intact coastal strand habitat … . They have also worked … to control predators of the birds, primarily mongooses, using humane traps. Visitors to the area are asked to keep their distance from the albatross, and to make sure their dogs are on a leash. Volunteers are currently monitoring four other Laysan albatross nests nearby, and hope to see more hatchlings … ."
Meanwhile Laysan Albatross numbers at the Kaʻena Point Natural Area Reserve on Oahu, protected by a predator-proof fence, continue to increase. A total of 106 albatross pairs is reported to have commenced breeding in the current (2018/19) season. Additionally, the number of Wedge-tailed Shearwater Puffinus pacificus chicks within the reserve has more than tripled in the last seven years (click here).
"The reserve is open to hiking and wildlife viewing, however it is illegal to bring in dogs, even on a leash, as they frighten nesting birds and have caused mass deaths of seabirds in the past. Visitors should stay on marked trails, properly dispose of trash, and observe wildlife respectfully, from a distance."
Read more here.
John Cooper, ACAP Information Officer, 07 February 2019