The Albatross Task Force has released is annual highlights report, accessible on the Marine Programme website of BirdLife International.
"The Albatross Task Force is an international team of expert practitioners of seabird bycatch mitigation measures, and is built on the foundations of a small but highly dedicated group of individuals supported by the BirdLife International network of partners and local host conservation organisations. This year the joint effort of the teams has racked up over 700 days at sea in 15 fisheries, across eight countries and two continents. While on shore, the teams have managed a combined effort of 850 meetings, port visits and outreach events reaching at least 13,800 fishery stakeholders, officials and members of the public to generate a wider understanding and awareness of the urgent need to reduce the unsustainable incidental capture of vulnerable seabirds.
The main objective of the Task Force is to reduce bycatch of albatross and petrels in targeted fisheries, and ultimately to improve the conservation status of threatened seabirds. Since the inception of the ATF with a single team in South Africa in 2006, the RSPB now supports trained mitigation instructors in seven countries, employing 17 team members. The principal duties of the ATF include identifying fisheries which pose the greatest risk to seabirds, and developing, demonstrating and implementing best practice measures to reduce seabird bycatch to negligible levels. Our work consistently results in clear demonstrations that seabird bycatch can be reduced by >90% once the right combination of mitigation measures are deployed.
Our first team in South Africa has led the field, with a multi-year study reflecting a 99% reduction in albatross mortality in the trawl fishery. Other ATF teams, which began operations in 2008, are now beginning to follow suit with the introduction of new regulations to protect vulnerable seabirds in some of the world's bycatch "hotspots"."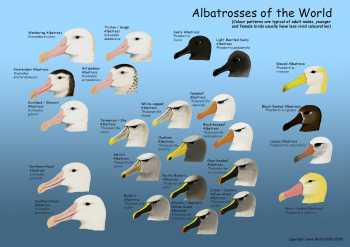 Poster by Jamie Watts
John Cooper, ACAP Information Officer, 01 August 2015