A total of 110 ACAP-listed and Vulnerable Chatham Albatross Thalassarche eremita chicks was moved from the Pyramid, the species' sole breeding site, to Point Gap on the main Chatham Island in 2014 and 2105 in an effort to establish a new breeding colony. The chicks were hand fed until they fledged, only six not surviving due to heat stress (click here).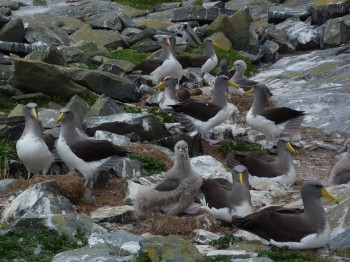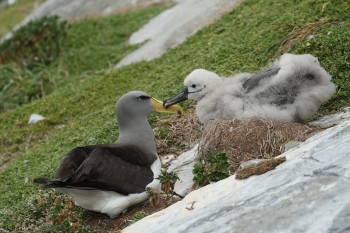 Collection day: Chatham Albatrosses with large chicks on The Pyramid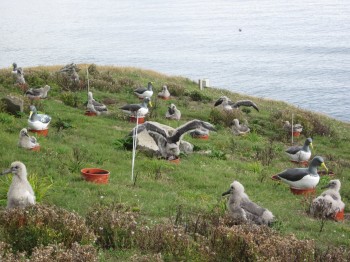 The translocated chicks settle in on their bucket nests at Point Gap among models of adults
Photographs by the Chatham Islands Taiko Trust
The Chatham Islands Taiko Trust successfully transferred a further 50 chicks for the third year of the project last week on the Pyramid to Point Gap. It is intended to continue translocations for a further two years.
Access past news about the translocation project here. More photos of the 2016 translocation are on the Trust's Facebook page.
Reference:
Bell, M. 2015. Establishing a new colony of Chatham Island Albatross in the Chatham Islands, New Zealand. Sea Swallow 64: 4-8.
John Cooper, ACAP Information Officer, 24 February 2016