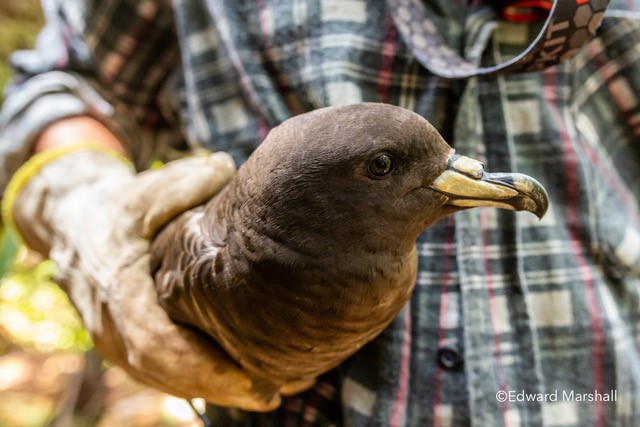 Black Petrel, photograph by Edward Marshall
A banded globally and nationally Vulnerable Black Petrel/Takoketai Procellaria parkinsoni chick which fledged from Great Barrier Island/Aotea, New Zealand in 2001 was caught alive at sea on a vessel in Ecuador in 2007, according to a post on Wildlife Management International's Facebook page.
"In Ecuador, the bird, then six years old, was disorientated when it was caught and didn't want to fly, despite not having any injuries. The crew cared for the bird for four days at sea, took it back to port for further care and additional food, and then released it alive when they returned to sea a couple of days later."
The bird was recaptured for the first time at the Aotea study colony in a marked burrow near the summit of Mount Hobson/Hirakimata on 10 February 2020 at the age of 19 years, The bird was with another Black Petrel in the study burrow, so it is possible they may pair up and breed.
John Cooper, ACAP Information Officer, 05 March 2020