UPDATE: Closing date for submissions has been extended by one week to 7 March.

The 4th International Forum on the Sub-Antarctic will be held in Hobart, Tasmania, Australia from Wednesday 29 to Thursday 30 July 2020. The meeting is to be hosted by the Tasmanian Government and the New Zealand Department of Conservation
"A reminder that abstracts for speed talks/posters for the 4th International Forum on the sub-Antarctic close on 29 February. This is the only international conference dedicated to the sub-Antarctic. We want to hear from anyone who has an interest in anything about the sub-Antarctic. Please spread the word to colleagues who may be interested and may not be on our mailing list."
For more information or to submit an abstract click here.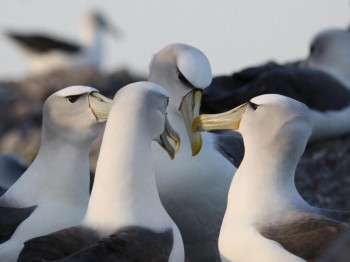 Shy Albatrosses Thalassarche cauta on Tasmania's Albatross Island, photograph by Rachael Alderman
John Cooper, ACAP Information Officer, 22 February 2020, updated 27 February 2020