Skomer Island is located off the coast of the Pembrokeshire Peninsula, Wales, and is one of the United Kingdom's most important seabird colonies. The island supports roughly 50% of the World's Manx Shearwater Puffinus puffinus population (around 316 000 pairs) along with internationally important numbers of Atltantic Puffins, Common Guillemots, Razorbills and gulls. The island is open for up to 250 visitors a day, with up to 16 staying overnight.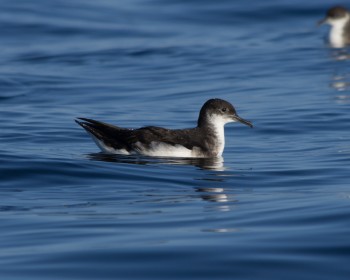 Manx Shearwater, photograph by Nathan Fletcher
An opportunity exists for a Seabird Monitoring Volunteer on Skomer for the period 25 May until 30 June 2017 (click here).
"This volunteering position will be to help out with our busiest period of the year, which we start by counting gull nests and then continue on to counting every nesting seabird on the island from land and boat, twice. There will also be a large proportion of time spent recording responses from Shearwater census plot burrows across the island."
Separately, three Long Term Volunteer positions are available, two of which run from 1 April to 15 July 2017 and the third from 15 July to 30 September 2017.
"The Long Term Volunteers will become an integral part of the island team and will be involved in all aspects of the running of the National Nature Reserve. They will be welcoming guests and giving welcome talks, conducting various species surveys (including seabird monitoring and seal monitoring in the appropriate seasons), helping to keep the visitor accommodation clean, carrying out general maintenance all over the island and undertaking their own research project whilst on the island."
Find the Long Term Volunteer advert here.
Note that the application forms for the Seabird Monitoring position and Long Term Volunteer positions are different. The closing date for applications is 16 January 2017, with shortlisted candidates to be interviewed in the week commencing 30 January.
John Cooper, ACAP Information Officer, 22 November 2016