An opportunity has arisen for an experienced and enthusiastic Conservation Scientist to join the Royal Society for the Protection of Birds (RSPB) team working on marine protected areas (MPAs) in the United Kingdom Overseas Territories (UKOTs).
"The post-holder will assess the extent to which marine sites of conservation importance (marine Important Bird and Biodiversity Areas and Key Biodiversity Areas) in the UKOTs are covered by existing spatial protections, and compile data on the pressures these important areas face. The post holder will also be responsible for analysing tracking data from seabirds and other marine fauna to produce detailed distribution maps in the Tristan da Cunha EEZ (Exclusive Economic Zone).
The post-holder is expected to hold a PhD with a focus on spatial distributions of marine fauna, evidenced by a publication record in the peer-reviewed international scientific literature. Candidates must also have experience working with and manipulating spatial data from biologgers and other sources. Familiarity with analysis of spatial data in either R or ArcMap, or Python, will be essential. Knowledge of marine protected areas and Important Bird & Biodiversity Areas is also an asset.
Experience in data management is essential, as is preparation of scientific manuscripts and reports for a diverse range of audiences. The post will be desk-based and involve extensive collaboration with teams in Conservation Science and the Overseas Territories Unit of RSPB's international programme, as well as with BirdLife International.
The post-holder will need to build and maintain collaborative relationships with key internal and external partners using high standard oral and written communications. They may need to represent the RSPB as a technical expert in a variety of internal and external fora."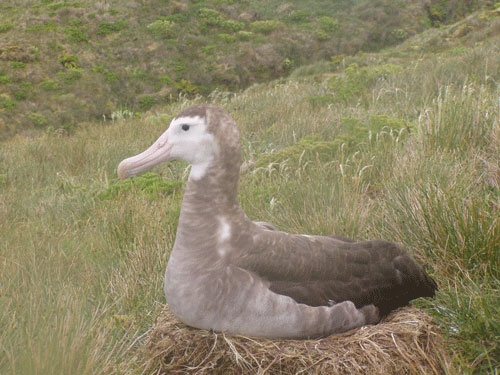 A female Tristan Albatross incubates on Gough Island, photograph by John Cooper
Closing date: 01 September 2016. Read more here.
John Cooper, ACAP Information Officer, 15 August 2016