Chris Gaskin (Northern New Zealand Seabird Trust, Auckland, New Zealand) and colleagues have produced a report on diving and foraging behaviour of petrels and shearwaters in New Zealand waters for the Conservation Services Programme of the New Zealand, Department of Conservation.
The report's summary follows:
"Petrels and shearwaters are known to have an extra-ordinary ability to dive while seeking food - shearwaters for example are capable of diving to the astonishing depth of over 65 metres. This project aims to document the diving and feeding behaviour of petrels and shearwaters in response to fishing baits so as to inform future development of methods of reducing seabird bycatch. As fishing baits are attractive, there is a significant risk of fatal interactions between seabirds and commercial and recreational fishing activities. Black petrel Procellaria parkinsoni and flesh-footed shearwater Ardenna carneipes have been identified as being at high risk from commercial fisheries in New Zealand waters, particularly longline fisheries that target snapper and bluenose, in addition to interactions with recreational fishers. This threat is most pronounced during the breeding season as these species migrate out of New Zealand waters during winter. The initial two-day trial documented in this report was designed to test a camera rig and underwater diver as methods of recording the diving behaviour of seabirds. The trial was conducted on two days (31 March and 4 April 2016) in the area between Hauturu and Cape Rodney/Tawharanui using equipment custom-made for this project. An underwater camera rig consisting of an adjustable array of seven GoPro+ cameras was deployed from the stern of an 11m boat. The cameras were angled with overlapping camera sets to provide a wide field of view of both near-surface and underwater activity. This rig was supplemented by video and still photography using a fixed deck camera, a diver and underwater camera, and at one location a snorkeler with a GoPro. Baits of cut pilchard and squid were dropped within two metres of the camera rig. Conditions on both trial days were not ideal with relatively poor visibility, moderate swell and strong winds at times. In addition the timing of the trial at the end of the breeding season for both back petrel and flesh-footed shearwater meant that relatively few birds were present and there was little competition for baits. During 4.7 hours of filming over the course of the two days we witnessed the interaction of nine seabird species with baits or with other seabirds attracted to bait: fluttering shearwater, fleshfooted shearwater, black petrel, Buller's shearwaters, black-backed gull, red-billed gull, Cook's petrel, Australasian gannet and Arctic skua. A total of 415 individual dives were [sic] recorded during the survey period. Several feeding behaviours were observed. These included flying dives, surface sighting and seizing, duck dives, short dives and prolonged foraging dives. Birds were seen to investigate baits while underwater and, on a number of occasions, reject them. The birds were also highly maneuverable underwater and capable of changing direction with ease. During this successful initial trial investigating the diving behaviour of at-risk petrels and shearwaters, we made novel discoveries regarding the interactions of these species underwater and their diving capabilities, including: 1) Bait preferences differ between species; 2) Seabird species have different diving inclinations; and 3) Heterospecific interactions around a prey source. The present study shows that the use of a multi-frame camera apparatus and diver with camera is effective in better understanding the behaviour of petrels and shearwater in interactions with bait and fishing lines. This method can be applied to more in-depth and scientifically controlled studies related to bait preferences, diving and visual acuity, and interactions between seabird species and fishing apparatus. This information is critical in mitigating fisheries by-catch and provides important data for better understanding the at-sea biology of seabirds. We propose a series of further trials be conducted in November/December 2016 using both recreational and commercial fishing vessels. In addition to using and extending the current methodology, we propose the use of an ROV to film a commercial boat setting and hauling nonhooked baited long-lines. We also propose using the camera rig suspended from a buoy to attempt to film natural seabird feeding activity within an active 'work-up' (ie. birds feeding in association with fish-schools)."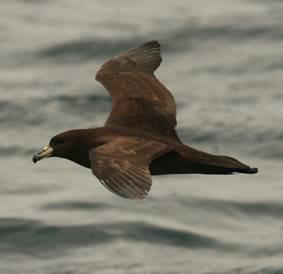 Black Petrel, photograph by 'Biz' Bell
Reference:
Gaskin, C.P., Ross, J.R. Robinson, R. & Friesen, M.R. 2016. Diving & Foraging Behaviour of Petrels & Shearwaters – Initial Trials. Prepared for the Conservation Services Programme, Department of Conservation. Auckland: Northern New Zealand Seabird Trust. 25 pp.
John Cooper, ACAP Information Officer, 12 August 2016