ACAP Latest News has previously reported on an unsuccessful attempt in 2009 to eradicate introduced rats on the Hawaiian island of Lehua, home for small populations of ACAP-listed Black-footed Phoebastria nigripes and Laysan P. immutabilis Albatrosses as well as several other breeding seabird species (click here).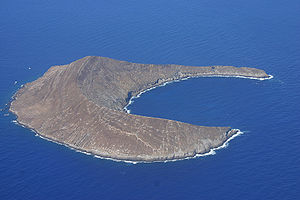 Lehua from the air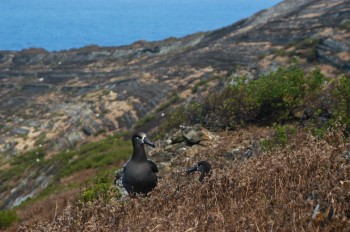 Black-footed Albatrosses on Lehua, photograph by Eric Vanderwerf
News is now out of plans to try once more to get rid of Lehua's rats by applying poison bait (click here).
"The bait will be applied to Lehua Island by helicopter with supplemental hand applications. Two anticoagulant rodenticides are being considered, both of which are authorized or will be authorized and registered by the U.S. Environmental Protection Agency for such conservation applications. The rodenticides are Diphacinone and Brodifacoum. They are used commonly by the global conservation community to remove invasive rats and mice from islands. Locally, this includes the successful eradication of rats from Mokapu islet near Molokai. Once rats are confirmed to have been removed from the island, no additional rodenticide will be needed."
A draft environmental assessment (DEA) is to be made available for review and public comment this month.
"The purpose of the project is to restore the Lehua Island ecosystem by creating a predator-free, fully-protected refuge for threatened and endangered Hawaiian species. The invasive rats have far reaching impacts on the island's native birds, plants, and natural systems. Chiefly, they eat native seabird eggs, chicks, and adults. They also consume and destroy the island's native plants and seeds."
John Cooper, ACAP Information Officer, 07 March 2017