Hélder Araújo (Departamento de Biologia, Centro de Estudos do Ambiente e do Mar, Universidade de Aveiro, Portugal) and colleagues have published in the journal Marine Biology on aerial censuses of the Critically Endangered and ACAP-listed Balearic Shearwaters Puffinus mauretanicus in Portuguese Continental Shelf Waters.
"The Balearic shearwater Puffinus mauretanicus is one of the most threatened seabirds in the world. To evaluate the abundance and distribution of Balearic Shearwaters in Portuguese Continental Shelf Waters, during the post-breeding period when migrating birds are outside the Mediterranean Sea, we conducted 5 aerial surveys between 2010 and 2014 (21 survey days covering 62,716 km2). Following a line transect method, observers recorded a total of 181 Balearic Shearwaters sightings. Using Distance sampling software, we estimated an overall species abundance (2010–2014) of 10,182, ranging between 2338 in 2010 and 23,221 individuals in 2012. During the 2012 post-breeding period, the Portuguese Continental Shelf Waters were used by up to 96.8% of the latest migratory population assessment. Considering Balearic Shearwater estimates per sampling block, there was a preference for the North and Center sectors of the Portuguese coast (respectively, 7058 and 1366 individuals) where several SPAs were already designated. We computed the annual and overall habitat predictive models for Balearic Shearwaters using a maximum entropy algorithm on MaxEnt software. In all models, the Balearic shearwater distribution was best predicted by mean chlorophyll concentration. Balearic Shearwaters are mostly present in shallow shelf and coastal waters particularly in the widest portions of the continental shelf. These areas are strongly influenced by upwelling, which concurs with the chlorophyll concentration being the most important predicting variable. Portuguese Continental Shelf Waters are one of the most important post-breeding grounds to the Balearic Shearwater."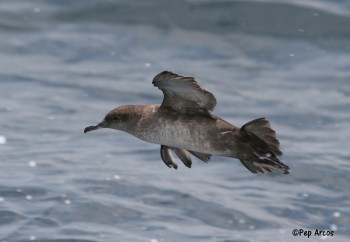 Balearic Shearwater at sea, photograph by Pep Arcos
Reference:
Araújo, H., Bastos-Santos, J., Rodrigues, P.C., Ferreira, M., Pereira, A., Henriques, A.C., Monteiro, S.S., Eira, C. & Vingada, J. 2017. The importance of Portuguese Continental Shelf Waters to Balearic Shearwaters revealed by aerial census. Marine Biology 164: 55. doi:10.1007/s00227-017-3089-x.
John Cooper, ACAP Information Officer, 07 March 2017