The third Island Invasives Conference 2017 will be held at the University of Dundee in Dundee, Scotland over 10-14 July 2017.
The first two Island Invasives Conferences were held in New Zealand, the most recent in 2010, so the Dundee Conference will be the first in seven years and the first to be held in the northern hemisphere.
The conference organizers have reported on the third conference to ACAP Latest News: "it provides a unique opportunity for those of us in the fields of IAS [invasive alien species] impacts/management/eradication and based in Europe to get together under one roof with specialists and interested others from around the globe. It is our hope and expectation that this long-overdue third conference will provide … inspiration and encouragement to the next generation of conservationists. We hope that students in related disciplines will attend. Their participation is encouraged by virtue of a subsidised registration fee, and inexpensive accommodation is available in the city."
Click here to read about the invited speakers, including "Biz" Bell of Wildlife Management International who studies and helps conserve ACAP-listed Black Petrels Procellaria parkinsoni in New Zealand.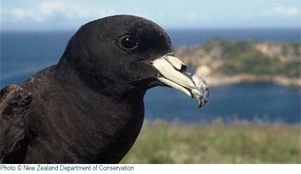 Black Petrel, a New Zealand endemic
The deadline for abstract submission is 28 February 2017, and the full conference programme will be published by April. To receive regular conference news and updates contact Esta dirección de correo electrónico está siendo protegida contra los robots de spam. Necesita tener JavaScript habilitado para poder verlo. to be added to the conference mailing list. Conference news can be followed @islandinvasives on Twitter.
With thanks to Tony Martin and Alison Neal.
John Cooper, ACAP Information Officer, 08 February 2017