A Senior Research Assistant and two Research Assistants are once again required for island restoration work on Gough Island in the South Atlantic Ocean, a World Heritage Site. Fieldwork will include demographic monitoring of the Critically Endangered and near-endemic Tristan Albatross Diomedea dabbenena, seriously at risk to attacks by alien House Mice Mus musculus, as well as of four other species of ACAP-listed albatrosses and petrels. Alien plant eradication also forms part of the work. All three posts will be for a period of 15 months, consisting of two months pre-deployment training and 13 months deployment on Gough.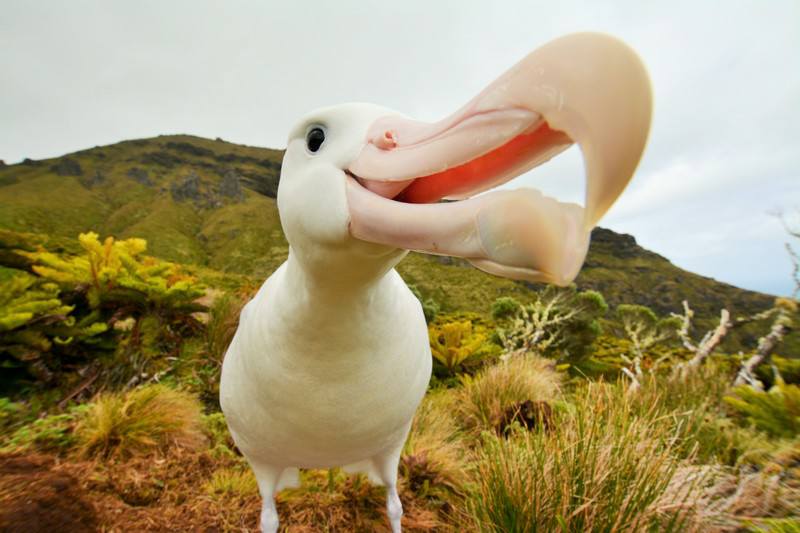 A male Tristan Albatross on its nest site near Gonydale on Gough Island investigates the photographer, Tom McSherry
"The primary rationale for these positions is to support the restoration of Gough Island. We wish to attract committed candidates who will adapt to the requirements of this restoration programme and remain focused on the outputs needed to progress this globally important effort. This position will offer a unique opportunity for highly motivated and disciplined individuals with relevant fieldwork skills and a keen interest in wildlife, who will adapt well to a small island living in a challenging sub-Antarctic environment."
Details of the three posts and how to apply can be found on the website of the UK's Royal Society for the Protection of Birds (RSPB) by clicking on Senior Research Assistant and two Research Assistants. The closing date is 28 February 2017.
Click here for the previous year's advert.
John Cooper, ACAP Information Officer, 01 February 2017