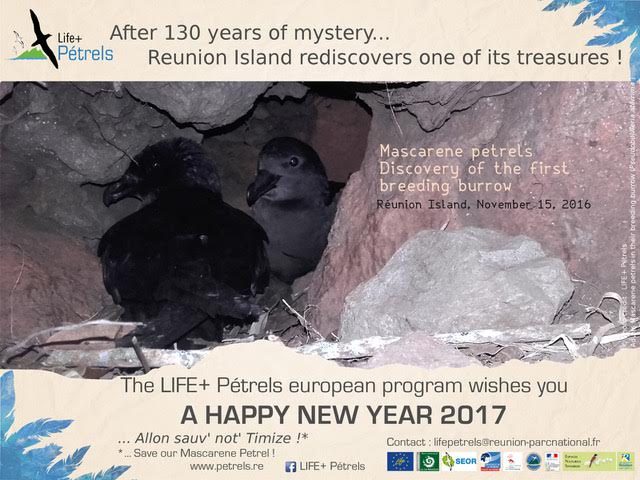 The LIFE + Pétrels project has reported the discovery in November last year of the first known breeding colony of one of the World's rarest seabirds, the Critically Endangered Mascarene Petrel Psuedobulweria aterrima on the Indian Ocean island of Reunion.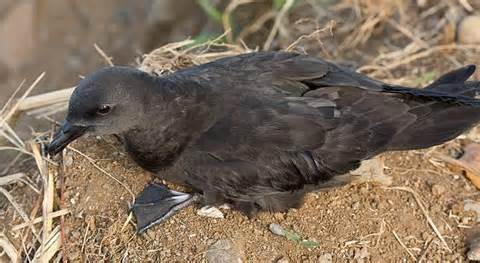 Mascarene Petrel
Several innovative tools, including infrared binoculars were used to track petrels in flight andlocate landing birds leading to the discovery of an active breeding colony. The colony was found after abseiling down sheer cliffs within the Saint-Joseph Municipality, in the south of the island (click here).
"The LIFE + Petrels program (2014-2020) aims to halt the decline of endemic petrels in Reunion. These birds are emblematic of Reunion Island's exceptional biodiversity. The project brings together the island's various stakeholders and actors to save the Petrel, which is currently on the brink of extinction and threatened by introduced predators and light pollution." Mascarene Petrels have been regularly found attracted by lights on the island. A rescue campaign is conducted each year.
"Modelling work on Reunion Island showed only eradication of both cats and rats … will effectively save seabird species such as these. Predator eradication is not currently possible on Reunion Island so for now the LIFE+Petrels team will have to implement other conservation strategies such as predator-proof fencing and ongoing control" (click here).
With thanks to Patrick Pinet, Parc national de La Réunion.
Reference:
Pinet, P., Julie Tourmetz, J., Riethmuller, M., Salamolard, M., Le Corre, M. & Couzi, F.-X. 2016. Dark side of the moon … and petrels. 6th International Albatross and Petrel Conference, Barcelona, September 2016 Conference Program and Abstracts. p. 131
John Cooper, ACAP Information Officer, 27 January 2017