A colour-banded Wandering Albatross Diomedea exulans was given a second chance after landing on the deck of a fishing trawler in New Zealand waters last year on 25 June. The bird was first banded as a breeding adult male in the long-term monitoring colony above Macaroni Bay and towards Archway Bay on South Africa's Marion Island on 22 February 2016 with metal band J-26722 and white colour band Z21. It was last recorded ashore brooding a chick on 26 March 2016. By 30 April the breeding attempt had failed, thus allowing the now "off-duty" failed breeder to travel as far as New Zealand.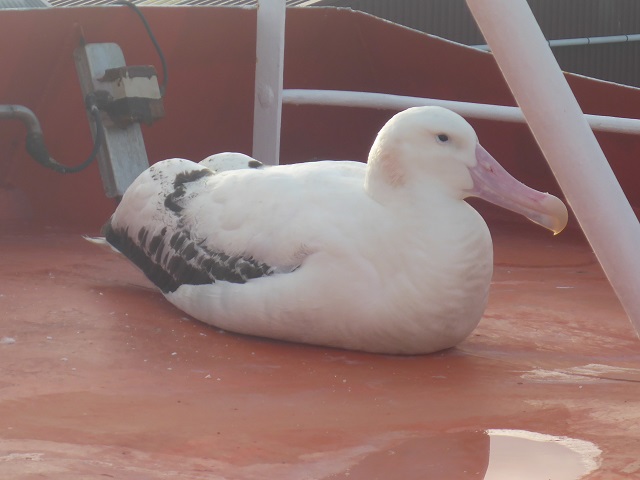 J-26722/W-Z21 aboard the Otakou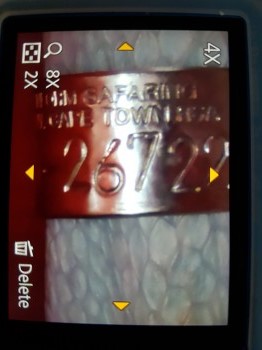 As reported by onboard observer Susan Chalmers to the South African Bird Ringing Unit (SAFRING), the Wanderer was caught aboard the Sealord trawler Otakou at Port Nelson in Tasman Bay, New Zealand at 41° 14'S; 173° 14'E, 124 days after being banded, 91 days since last being seen at its nest and 56 days since nest failure was first recorded. The great-circle distance between banding site and recapture locality is 1735 km (click here).
Biz Bell of Wildlife Management International writes to ACAP Latest News "Looks like it landed on the vessel for a rest and got grounded by lack of wind". The albatross was released overboard as the Otakou left Port Nelson harbour the same day as its capture.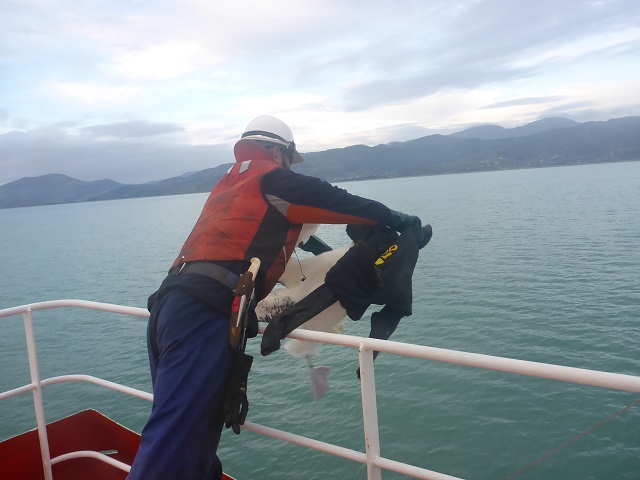 J-26722/W-Z21 gets released
Photographs by Susan Chalmers, Department of Conservation/Ministry for Primary Industries Observer aboard the Otakou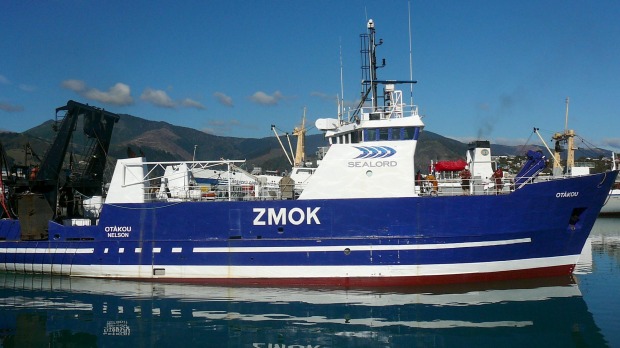 Sealord's trawler Otakou
With luck W-Z21 will return to 'Macci Bay' on Marion Island and attempt to breed once more in the study colony I set up in the early 1980s.
With thanks to Biz Bell, Wildlife Management International Ltd; Dane Paijmans, SAFRING; and Stefan Schoombie & Kim Stevens, FitzPatrick Institute, University of Cape Town.
John Cooper, ACAP information Officer, 20 February 2017