ACAP Latest News reported a year ago on the killing of Laysan Albatrosses Phoebastria immutabilis breeding in the Ka'ena Point Natural Area Reserve on the Hawaiian island of Oahu by intruders entering the fenced area at night. Eggs were also smashed and recording and attracting equipment removed (click here).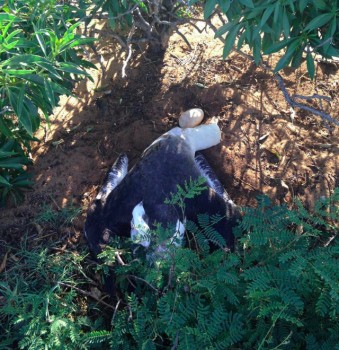 One of the Laysan Albatrosses found dead after the event next to its egg, photograph from Pacific Rim Conservation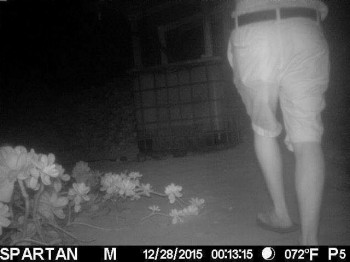 The miscreant? A trail-side camera catches an intruder on the night of the killings
News is now in that after a year a 19-year-old man has been arrested in connection with the incident. He turned himself in, was booked and released on [US]$25,000 bail. He faces 19 criminal counts. They include 14 counts of animal cruelty, as well as criminal property damage, theft and engaging in a prohibited act in a state nature reserve.
The accused albatross killer pleaded not guilty in his first court appearence this week (click here). The trial date has been set for 27 February. The accused's defence attorney has stated that my client "was camping at Kaena Point with schoolmates from Punahou. He was there when this happened but he did not injure any birds. He didn't do it. He didn't maim or touch the animals, period." The attorney said another of the accused's schoolmates was responsible for the albatross slaughter.
Two other suspects, then schoolmates of the adult accused and who were minors at the time of the incident, have also been arrested. Their cases are to be handled in a juvenile court.
Pacific Rim Conservation which monitors Kaena Point's albatrosses and was responsble for the Kaena Point Ecosystem Restoration Project which resluted in the erection of a predator-proof fence reports on a positive outcome of the incident:
"In many ways our hearts are no less broken than they were last year and we are still grieving. But there have been some silver linings to this. We have seen a change in all of you who regularly hike out to Kaena - bad behavior is not tolerated out there anymore and we see folks regularly taking it upon themselves to teach good behavior to others. We receive a lot more questions when we are working out there which is good. We encourage you to always ask questions, even of the folks who appear to be working off trail- anyone working in the reserve will always come over to talk to you and explain what they are doing if asked. If you see something you don't feel comfortable with addressing- call DOCARE- their number is 643-DLNR. Those of you who hike out to Kaena are the eyes and ears and together we can work together to try and keep that area safe for our wildlife. Aloha and Mahalo you for all of your support over the last year."
Read more here. ACAP Latest News will report on the outcome of the trial.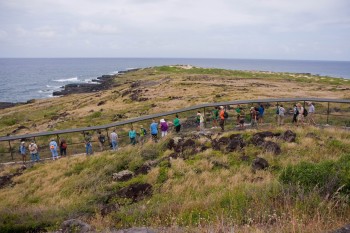 Kaena Point predator-proof fence, photograph by Lindsay Young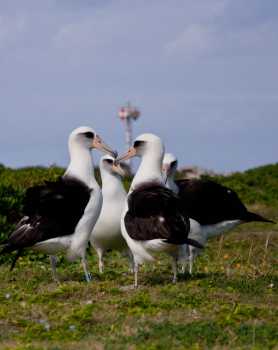 Laysan Albatrosses at Kaena Point in happier times, photograph by Lindsay Young
John Cooper, ACAP Information Officer, 29 December 2016