The Vulnerable Hawaiian Petrel Pterodroma sandwichensis is endemic to the high Hawaiian islands of Hawaii, Kauai, Lanai and Maui in the north Pacific. The "big island" of Hawaii supports a small breeding population of around 75 pairs at high altitude on the volcanic peaks of Mauna Loa and Mauna Kea in the Hawaiian Volcanoes National Park. These birds are at risk to feral cats Felis catus, despite the barren nature of the environment in which they breed in holes and crevices in lava fields.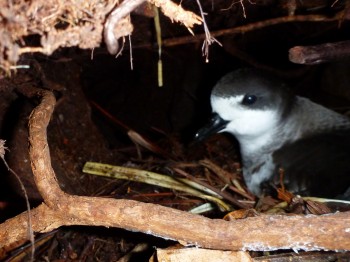 Hawaiian Petrel, photograph by Andre Raine
To protect the Mauna Loa population an eight-kilometre long cat-proof fence, the largest in the United States, has been built by the National Park Service that encompasses 600 acres (245 ha) to keep the cats out. Construction commenced in 2013 outside the breeding season and has now been completed.
"The specifically designed barrier is more than six feet [1.8 m] high, and has a curved top section that prevents cats from climbing over it."
Watch a six-minute video on the Hawaiian Petrels breeding on Mauna Loa.
View videos on the fence construction:
http://www.bigislandvideonews.com/2016/10/27/video-largest-cat-proof-fence-built-on-largest-volcano/
http://www.metronews.ca/news/world/2016/11/04/hawaii-cat-fence-endangered-birds.html
See also:
https://www.buzzfeed.com/mbvd/americas-largest-cat-proof-fence-built-in-hawaii-to-protect?utm_term=.ljypOByBZ#.wr2EZBRBw
It remains to be seen whether the protected Hawaiian Petrels in the absence of feral cats will be deleteriously affected by alien rodents, to which the new fence presumably will not be a barrier. Rodents have been recorded in the diet of feral cats on Mauna Loa (click here).
John Cooper, ACAP Information Officer, 17 November 2016s