Applications are invited from previously disadvantaged South African citizens for the above full-time MSc research scholarship at the University of Cape Town's Percy FitzPatrick Institute, a world-renowned, national Centre of Excellence (CoE) in ornithological research with a strong emphasis on postgraduate studies (click here).
The successful applicant will focus on understanding how breeding performance interacts with the extent of moult in large procellariiform seabirds. The candidate will be supported and supervised by the Fitztitute's Director, Peter Ryan.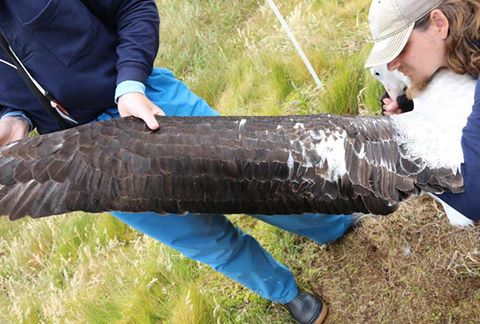 Examining a Tristan Albatross wing on Gough Island, photograph from the FitzPatrick Institute
"Moult is one of the major annual constraints faced by birds, and large birds in particular struggle to accommodate moult in their annual cycle because the rate of feather growth scales only weakly with body size. This creates an evolutionary dilemma for large procellariiform seabirds such as albatrosses and giant petrels which either have to overlap moulting with breeding, potentially compromising their ability to breed successfully, or only replace a subset of feathers each year, potentially leading to an accumulation of old feathers. This conflict might lead to trade-offs between breeding and moulting, which have been inferred for North Pacific albatrosses, but not fully explored in Southern Ocean species. In addition, most focus to date has been on primary moult patterns in these birds, but they have many more secondaries than primaries, and their strategies to replace their secondaries also warrant investigating. The successful candidate will use photographic records of moult status of breeding albatrosses and giant petrels from Marion and Gough Islands to address these questions."
The closing date for applications is 30 November 2016. Read more here.
John Cooper, ACAP Information Officer, 09 November 2016