The 2016 round of formal meetings of the Albatross and Petrel Agreement is being held in the coastal city of La Serena, Chile over this and next week.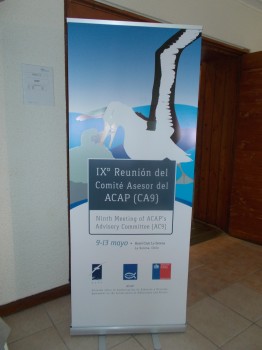 The Ninth Meeting of ACAP's Advisory Committee (AC9) will be held next week over 9 – 13 May. AC9 is being preceded by the Seventh Meeting of the AC's Seabird Bycatch Working Group (SBSWG7) from today through to Wednesday. It will be followed by the Third Meeting of the AC's Population and Conservation Status Working Group on Thursday 5 and Friday 6 May. The three meetings are being held at the beach-side Hotel Club La Serena. La Serena lies 470 km north of Santiago, the capital of Chile.
Twenty-one of the SBSWG's 27 expert members are attending the working group meeting along with 18 others present as observers or as members of the ACAP Secretariat. SBSWG7 is being chaired by its Convener Anton Wolfaardt (UK), supported by Igor Debski (New Zealand) and Tatiana Neves (Brazil). The Working Group's Terms of Reference are also available online.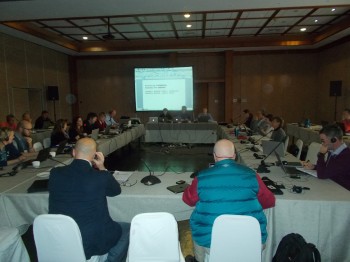 SBSWG7 gets underway
Marco Favero (Argentina) and Barry Baker (Australia) look towards the head table with Tatiana Neves, Anton Wolfaardt and Igor Debski facing the camera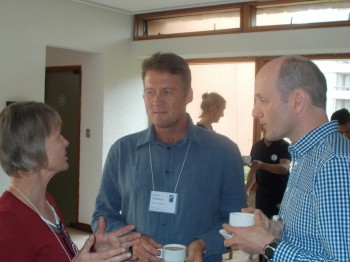 Barbara Wienecke (Australia) discusses the day's proceedings with Anton Wolfaardt and Igor Debski
Documents and Information Papers being discussed at SBSWG7 this week can be consulted online (click here). Note that some of the papers are password-protected and so only their abstracts are available online.
John Cooper, ACAP Information Officer, 02 May 2106