BirdLife South Africa is once more looking for bird observers to collect "Atlas of Seabird at Sea" (AS@S) data for a number of trips planned for this and early next year out of Cape Town.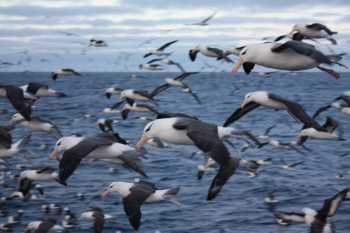 Black-browed Albatrosses gater behind a trawler in the Southern Ocean, photograph by Graham Parker
Single observers are required for the following nine coastal cruises on the Algoa up to March 2017:
IEP West Coast cruise: 11-30 May 2016
South Coast Moorings cruise: 16-30 Jun 2016
IEP West Coast cruise: 3-22 Aug 2016
SAMBA Moorings cruise: 5-19 Sep 2016
West Coast Whale Survey: 28 Oct- 6 Nov 2016
IEP West Coast cruise: 9 Nov - 3 Dec 2016
South Coast Moorings cruise: 6 - 15 Dec 2016
IEP West Coast cruise: 10 Feb - 5 Mar 2017
Benthic - Cape Canyon 9 - 28 Mar 2017
Expressions of interest are requested for two observers for each of the following two Antarctic cruises on the S.A. Agulhas II (berths still to be confirmed):
Southern Ocean Winter Voyage: 5 - 28 Jul 2016
Annual SANAE Relief Voyage: Dec 2016 - Feb 2017
Data are collected according to revised simplified methods available to view at the project website.
Sufficient prior experience or participation in the above coastal cruises would be beneficial in securing a position on the Antractic cruises.
Contact Esta dirección de correo electrónico está siendo protegida contra los robots de spam. Necesita tener JavaScript habilitado para poder verlo. for more details experience requited and how to apply.
John Cooper, ACAP Information Officer, 12 April 2016