The Ninth Meeting of ACAP's Advisory Committee (AC9) will be held in La Serena, Chile over 9-13 May 2016.
Meeting documents and information papers for AC9 are now being posted to this website (click here). These include the meeting agenda and a list of confirmed participants as well as financial and other reports from the ACAP Secretariat.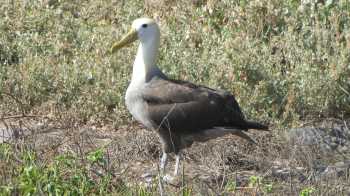 Waved Albatross, photograph by John Cooper
The meeting will be run by the Advisory Committee's Acting Chair, Mark Tasker of the United Kingdom. The Chair will be supported by the ACAP's Secretariat consisting of Marco Favero, Executive Secretary, Wiesława Misiak, Science Officer and John Cooper, Information Officer, along with Juan Pablo Seco Pon and an interpretation team.
AC9 will be preceded by the Seventh Meeting of the Advisory Committee's Seabird Bycatch Working Group from 2 to 4 May and the Third Meeting of the AC's Population and Conservation Status Working Group on 5 and 6 May.
John Cooper, ACAP Information Officer, 24 March 2016