Helen Gummer (Department of Conservation, Wellington, New Zealand) and colleagues have published in the journal Global Ecology and Conservation on successes achieved in bringing back the threatened Chatham Petrel Pterodroma axillaris from the brink.
The paper's abstract follows:
"Conservation of gadfly petrels, some of the most threatened seabirds, is frequently dependent on long-term research and management. We review 20 years of a program preventing the extinction of the Chatham petrel (Pterodroma axillaris), a New Zealand endemic once declining due to intense burrow competition from another native seabird. Breeding success in the early 1990s was unsustainably low (10–30%). Recovery measures started in 1992 when Chatham petrel burrows were converted and artificial entrances blockaded to exclude broad-billed prions (Pachyptila vittata). Pair and burrow fidelity were enhanced, though prions still posed a threat during Chatham petrel chick-rearing. Breeding success improved when prions were culled, however a less intensive and contentious solution was to introduce burrow flaps in 2001 which reduced interference from prospecting prions. Subsequently, breeding success increased to a mean 80% per annum. Finding burrows, primarily using radio-telemetry, increased those under management from eight in 1990 to 217 in 2010 when spotlight surveys indicated 72% of juvenile birds had fledged from managed burrows. Chick translocations to two other islands and increasing population size (from 200–400 birds in 1990 to an estimated 1400 birds by 2010) has improved the species IUCN status from Critically Endangered in 1990 to Endangered in 2013."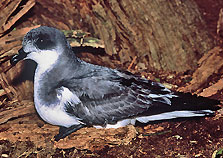 Chatham Petrel, photograph by Don Merton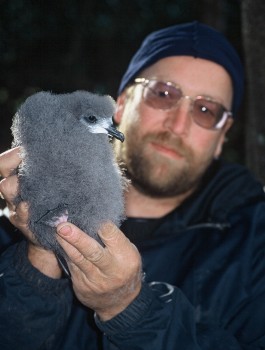 Graeme Taylor holds a Chatham Petrel chick, photograph by Helen Gummer
Reference:
Gummer, H., Taylor, G., Wilson, K.-J. & Rayner, M.J. 2015. Recovery of the endangered Chatham petrel (Pterodroma axillaris): A review of conservation management techniques from 1990 to 2010. Global Ecology and Conservation 3: 310-323.
NOTE: Starting with this item, ACAP Latest News will from time to time report on efforts to conserve gadfly petrels in the genus Pterodroma where it is thought that findings or techniques are relevant to efforts to conserve ACAP-listed species, especially the burrowing petrels of the genus Procellaria.
John Cooper, ACAP Information Officer, 23 February 2015