A review of the conservation status of the globally Vulnerable Short-tailed Albatross Phoebastria albatrus is required every five years by section 4(c)(2) of the United States' Endangered Species Act (ESA), under which the species is currently categorized as endangered. The previous review was published in 2009.
The most recent review released last September by the U.S. Fish and Wildlife Service (USFWS) recommends that no change to the domestic conservation status of the albatross be made, and that despite the species' building numbers it did not as yet warrant being downlisted to threatened, a lower level of conservation concern in terms of the ESA, or to being delisted.
The report identified the need for an up-to-date survey of the breeding population of Short-tailed Albatrosses on the uninhabited Senkaku Islands, which form a disputed territory, and as a consequence there is no more recent information from them available than for 2002.
"It is important to emphasize that both reclassification and delisting criteria require verified information about actual colony growth in the Senkaku Islands" obtaining which remains "one of the highest priority recovery actions for the species".
However, the USFWS does predict "with guarded optimism that by 2052, they will have fully recovered from the devastating market hunting that caused their endangerment".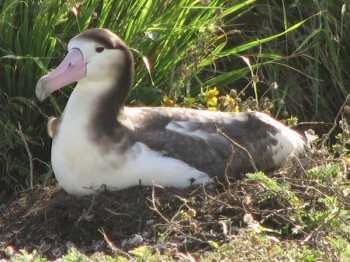 Female Short-tailed Albatross on Midway Atoll, photograph by Sarah Gutowsky
The report also goes into detail on translocation efforts to establish new colonies, at-sea mortality due to fishing operations and ensuing mitigation research conducted in the last five years.
Click here to read of Canada's 2013 reassessment of the conservation status of the Short-tailed Albatross.
References:
Lance, E. 2014. Conservation status of Short-tailed Albatross. In: Pacific Seabird Group. Forty-Second Annual Meeting: a Future for Seabirds San Jose, California, USA Abstract Book 18 - 21 February 2015 San Jose Airport Garden Hotel. p. 79.
U.S. Fish and Wildlife Service 2014. 5-Year Review: Summary and Evaluation Short-tailed Albatross (Phoebastria albatrus). Anchorage: Fish and Wildlife Field Office. 42 pp.
John Cooper, ACAP Information Officer, 16 February 2015