The Pacific Seabird Group will be holding its 42nd Annual Meeting next week in San Jose, California, USA, with the theme "A Future for Seabirds".
According to the meeting's abstract book 10 presentations will be given on the three species of ACAP-listed Northern Pacific albatrosses, as well on mitigation of seabird bycatch, as listed below.
Vickie Bakker & Myra Finkelstein. Risk management for at-risk seabirds: assessing bycatch effects on the population dynamics of Black-footed Albatross (Phoebastria nigripes).
Melinda Conners, Chandra Goetsch, Suzanne Budge, Yoko Mitani, William Walker, Daniel Costa & Scott Shaffer. Black-footed Albatrosses have higher levels of individual variability in behavior and diet than their sympatrically-breeding congener, the Laysan Albatross.
Karen Courtot, Michelle Reynolds, Paul Berkowitz, Janet Moore & Elizabeth Flint. Effects of sea-level rise and wave-driven inundation on colonial seabirds at Midway Atoll.
Amanda Gladics, Troy Guy, Edward Melvin, Robert Suryan, & Joseph Tyburczy. Collaborating with fishermen to reduce seabird bycatch in west coast Sablefish fisheries.
Sarah Gutowsky, Ian Jonsen, Marty Leonard & Scott Shaffer. Daily activity budgets reveal a quasi-flightless stage during non-breeding in Hawaiian albatrosses.
Julio Hernández-Montoya, Carlo Catoni, Alfonso Aguirre-Muñoz, Cecilia Soldatini, Luciana Luna Mendoza & Yuri Albores-Barajas. Sexual size dimorphism and sexual segregation in foraging distributions in Laysan Albatross from Guadalupe Island, Mexico.
Caitlin Kroeger, Daniel Crocker, Rachael Orben, David Thompson, Leigh Torres & Scott Shaffer. Comparative foraging energetics of breeding Campbell and Grey-headed Albatrosses.
Ellen Lance. Conservation status of Short-tailed Albatross.
Edward Melvin & Esteban Fernandez-Juricic. Laser technology for seabird bycatch prevention in commercial fisheries.
Lindsay Young, Eric VanderWerf, Cathy Granholm, Hob Osterlund, Kim Steutermann & Thomas Savre. Breeding performance of Laysan Albatrosses Phoebastria immutabilis in a foster parent program.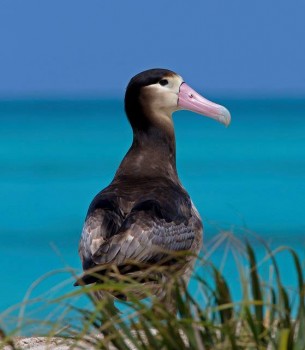 Short-tailed Albatross fledgling on Midway Atoll, photograph by Dan Clark
Presentations will also be made on the following procellariiform species: Northern or Arctic Fulmar Fulmarus glacialis, Pink-Footed Shearwater Puffinus creatopus, Audubon's Shearwater P. lherminieri, Great Shearwater P. gravis, Sooty Shearwater P. griseus, Hutton's Shearwater P. huttoni, Christmas Shearwater P. nativitatis, Newell's Shearwater P. newelli, Black-vented Shearwater P. opisthomelas, Wedge-tailed Shearwater P. pacificus, Manx Shearwater P. puffinus, Streaked Shearwater Calonectris leucomelas, Hawaiian Petrel Pterodroma sandwichensis, Ringed Storm Petrel Hydrobates hornbyi, Ashy Storm Petrel Oceanodroma homochroa (in a special session), Leach's Storm Petrel O. leucorhoa and Tristram's Storm Petrel O. tristrami.
John Cooper, ACAP Information Officer, 15 February 2015