It seems that 2015 is to be a bumper year for Near Threatened Laysan Albatrosses Phoebastria immutabilis in the USA's Hawaiian Islands due to favourable oceanographic conditions.  Kure Atoll has a record population of 38 307 breeding pairs this year and Pacific Rim Conservation reports a similar situation in the Kaena Point Natural Area Refuge on Oahu.  Numbers of Laysans are also well up on Midway Atoll (click here).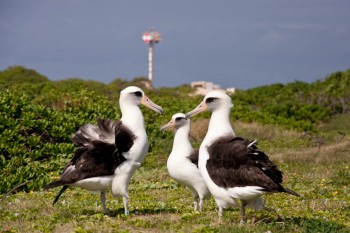 Laysan Albatrosses at Kaena Point, photograph by Lindsay Young
Perhaps partially related is that some Laysan Albatrosses have started breeding at a young age as Pacific Rim Conservation has reported on its Facebook page and to ACAP Latest News.
"[N]ot only is this shaping up to be a record year at most Laysan Albatross colonies for number of birds nesting, we have also set another record at Kaena- we have a four year old male breeding for the first time as well as multiple five year old birds. This is the youngest recorded breeding age for a male Laysan Albatross."  A female was recorded breeding at Kaena Point a few years ago as a four-year-old.  Both birds had fledged from Kaena Point.
Age of first breeding for this species of albatross in one study conducted on Midway Atoll with large samples was from five to 16 years (mean nine years), but with very few birds of either sex recorded commencing breeding as five-year-olds – or after 12 years.  Females tend to lag one year behind males.
With thanks to Lindsay Young, ACAP North Pacific News Correspondent for information.
Reference:
Van Rizen, M.T. & Fisher, H.I. 1976.  The age of Laysan Albatrosses, Diomedea immutabilis at first breeding.  The Condor 78: 1-9.
John Cooper, ACAP Information Officer, 26 January 2015