A single pair of Vulnerable Short-tailed Albatrosses Phoebastria albatrus has bred successfully in three of the four seasons since 2010/11 on the USA's Midway Atoll, one of the North-Western Hawaiian Islands, as regularly reported in ACAP Latest News (click here).
The immediate end of breeding by Short-tailed Albatrosses on Midway now seems likely with the discovery of the corpse of an adult male on 13 December on Eastern Island within the Midway Atoll National Wildlife Refuge, part of the Papahanaumokuakea Marine National Monument.  The bird was found by a U.S. Fish and Wildlife Service volunteer in an area containing Short-tailed Albatross decoys and where the male and female pair had successfully bred (click here).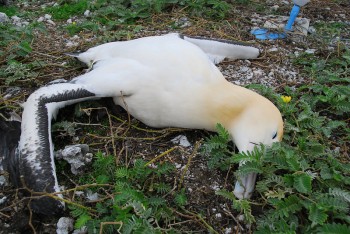 The dead Short-tailed Albatross as discovered on 13 December, photograph by Dan Clark/USFWS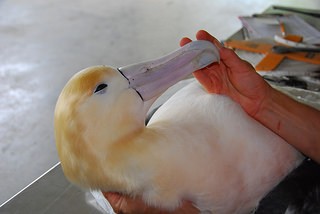 Refuge Biologist Meg Duhr-Shultz takes measurements and acquires tissue samples from the seemingly freshly-dead corpse
Photograph by Penny Knuckles/USFWS
Midway staff believes the dead bird was paired with the female that produced three chicks at the same site.  How it may have died is currently unknown. Tissue samples will be transported from Midway Atoll to the U.S. Geological Survey's National Wildlife Health Center Honolulu Field Station for analysis with the hopes of shedding light on the cause of death.
Midway Atoll National Wildlife Refuge Manager Dan Clark stated, "It is always difficult and a bit heart-wrenching to discover such an important and highly endangered bird deceased."
This male bird was first sighted in late October and was settled in amongst the decoys on Eastern Island, giving staff the impression it was one of the adults that had successfully reared chicks in previous years. His female mate has not been observed at Midway Atoll this year, although it is not unusual for Short-tailed Albatrosses to skip a breeding year.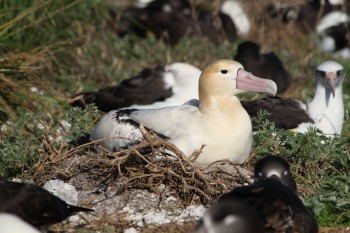 Happier times.  The male Short-tailed Albatross incubates on Midway's Eastern Island
Photograph by Pete Leary
The first documented Short-tailed Albatross record on Midway Atoll was of a single individual in 1938.  After Midway Atoll became a national wildlife refuge in 1988 a "social attraction project" was implemented with the support from Japanese researchers involving placement of decoys and installation of a solar-powered calling system.  By 2007, one or two Short-tailed Albatrosses were observed and another four birds were observed in 2008.  Two years later, a female arrived and mated with a male who had been returning once a year for four consecutive years. Their chick hatched on 14 January 2011 and by 7 June the chick took flight, marking the first time a Short-tailed Albatross chick has fledged outside of islands near Japan in recorded history.  Since that time, the pair skipped the 2012 hatch year but returned and reared a chick during the 2013 and 2014 hatch years.
With acknowledgement to the Friends of Midway Atoll National Wildlife Refuge.
John Cooper, ACAP Information Officer, 24 December 2014