The Limahuli Preserve on the northern coast of the Hawaiian island of Kaua'i is managed by the National Tropical Botanical Garden, a USA not-for-profit institution.  The Garden's mission is to "enrich life through discovery, scientific research, conservation, and education by perpetuating the survival of plants, ecosystems, and cultural knowledge of tropical regions".  The preserve was acquired in 1994.
The Upper Limahuli Preserve encompasses approximately 400 acres (1.6 km²) of land above Limahuli Falls in a valley with precipitous sides which extends from about 500 m to 1000 m at the summit of Hono O Napali.  The vegetation ranges over altitude from lowland to montane rain forest.  Because of its remoteness it is only accessed via helicopter.  "Since 1992, staff has increased management activities in this remote area in an effort to mitigate the decline of this once pristine ecosystem. Restoration and management programs today are focusing on control of the worst of the invasive plant species and control of the feral pigs [Sus scrofa]."
A 8-km ridgeline fence was erected around the preserve in 2009 to keep pigs and goats away from the native and endemic plants.  The fence is also proving to be a major boon in keeping pigs away from the preserve's breeding colonies of Endangered Newell's Shearwaters Puffinus newelli and Vulnerable Hawaiian Petrels Pterodroma sandwichensis, with 2013 proving to have the highest breeding success since observations by the Kauai Endangered Seabird Recovery Project (KESRP) commenced in 2006.  However, the large-mesh fence is not a barrier to feral cats Felis catus and rodents such as Black Rats Rattus rattus (although control operations against rats are practiced).  Regular visits to the site are made by helicopter to the preserve to maintain the fence.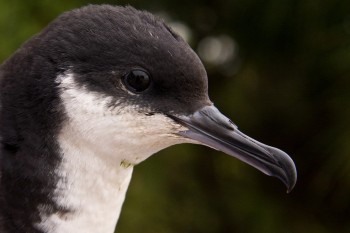 Newell's Shearwater on Kaua'i, photograph by Eric Vanderwerf
The KESRP collects data annually on breeding success, reasons for failure (such as predation of chicks by cats) and site fidelity of banded shearwaters and petrels within the preserve (and within the nearby 14.5- km² Hono o Na Pali Natural Area Reserve).  Burrows are monitored using burrow scopes and remote cameras.  Monitoring of the shearwater on the island has revealed a decreasing population.
The Kauai Endangered Seabird Recovery Project is a collaboration of the Hawai'i Department of Land and Natural Resources, the U.S. Fish and Wildlife Service and the University of Hawai'i's Pacific Cooperative Studies Unit.
Click here for more news on Newell's Shearwater.
With thanks to Andre Raine, Kauai Endangered Seabird Recovery Project and Kawika Winter, National Tropical Botanical Garden, for information.
Selected Literature:
Day, R.H., Cooper, B.A. & Telfer, T.C. 2003.  Decline of Townsend's (Newell's) Shearwaters (Puffinus auricularis newelli) on Kauai, Hawaii.  Auk 120: 669-679.
Department of Land and Natural Resources 2011. Hono O Nā Pali Natural Area Reserve (NAR) Management Plan.  Honolulu: Department of Land and Natural Resources.  107 pp.
Duffy, D. C. & Capece, P.I. 2014.  Depredation of endangered burrowing seabirds in Hawai'i: management priorities.  Marine Ornithology 42: 149-152.
Griesemer, A.M. & Holmes, N.D. 2011.  Newell's Shearwater population modeling for habitat conservation plan and recovery planning.  Pacific Cooperative Studies Unit Technical Report No. 176.  68 pp.
Troy, J.R., Holmes, N.D., Veech, J.A., Raine, A.F. & Green, M.C. 2014.  Habitat suitability modeling for the Newell's Shearwater on Kauai.  Journal of Fish and Wildlife Management  doi: http://dx.doi.org/10.3996/112013-JFWM-074.
John Cooper, ACP Information Officer, 29 December 2014