This month ACAP Executive Secretary, Christine Bogle, travelled from Hobart in Tasmania, where the ACAP Secretariat is housed, to her home country of New Zealand to attend an important event: her graduation as a Doctor of Philosophy on 11 December! Back in July Christine completed revision of her PhD thesis entitled "Democratisation in Asia-Pacific Monarchies: Drivers and Impediments" and submitted it to the Victoria University of Wellington's deposit library. However, she was asked not to use her new title until this month's graduation ceremony when the degree was officially conferred.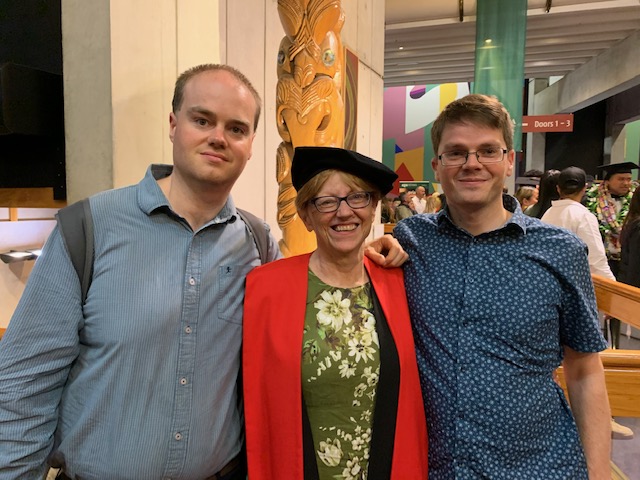 Dr Christine Bogle with two of her three sons, Toby (left) and Thomas (right) after graduation
Last week Christine e-mailed ACAP Latest News: "We had the graduation ceremony on Wednesday evening and then on Thursday there was a parade through town by all the graduates. Good weather throughout. Tonight I am going to have a party! On Sunday I will fly back to Hobart."
Christine commenced research towards her PhD in Political Science in the university's School of History, Philosophy, Political Science and International Relations in 2014. Previously she had an over 30-year career as a diplomat with New Zealand's Ministry of Foreign Affairs and Trade (MFAT).
Back in August Christine travelled to Nukuʻalofa in the Kingdom of Tonga in the South Pacific where she was the New Zealand High Commissioner from 2008 to 2010. There she gave an invited lecture on her completed thesis that looked at the monarchies of Bhutan, Nepal, Thailand and Tonga (click here).
An electronic version of Christine's PhD's thesis is available from the VUW Library's Research Archive. Click here for the thesis abstract.
John Cooper, ACAP Information Officer, 19 December 2019